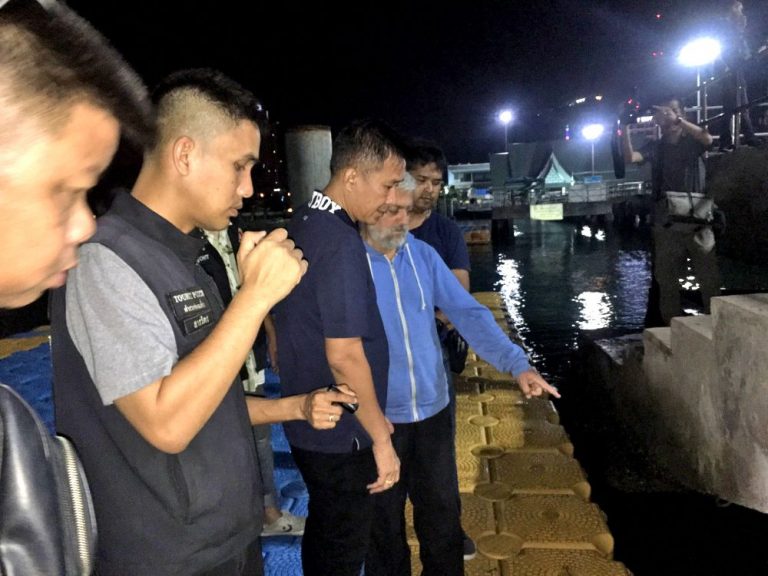 PATTAYA — A Jordanian man stands accused of murdering his own toddler by strapping him in a stroller and dumping him into the gulf off Pattaya, police said this week. We previously reported on this on our social media feeds as it became breaking news on Tuesday.
Wael Zureikat, 52, was arrested at Suvarnabhumi International Airport while attempting to leave the country hours after his 18-month-old son was found dead Monday evening, according to immigration chief Lt. Gen. Surachate Hakparn.
The boy's body was found by a local speed boat captain. The boy was still strapped to the stroller, floating in the water near Bali Hai Pier in Pattaya. Police said he had been dead at least two days. The fisherman stated that at first, he thought the boy was a doll until he got closer and saw the grisly truth.
Col. Apichai Krobphec, Pattaya police chief, said Zureikat confessed to killing his son late Friday night by pushing the stroller off the pier. A re-enactment was performed late Tuesday morning by police with Mr. Zureikat after he fully admitted to the murder.
Surachate said Zureikat wanted to take revenge against his 24-year-old wife after they got into a violent fight over their financial situation while on vacation there and because he didn't want to have children in the first place. He has been charged with murder. Mr. Zureikat stated in an interview at the Pattaya Police Station that we posted on our social media feeds that he felt he was the victim and that he had no remorse for his actions. He stated that he never wanted children and that he was stressed over being a father.
Surachate said the wife, who hasn't been identified, was still in shock after learning about her son's death and still couldn't make a statement. She's currently under medical care at a local hospital, he added and grieving.
Surachate, known as Big Joke in Thailand, also stated that Mr. Zureikat will face the full force of Thai law and that the Thai courts would decide his fate.
The case has caused shock and outrage on social media, with many users hoping that Mr. Zureikat will face the death penalty for his actions.