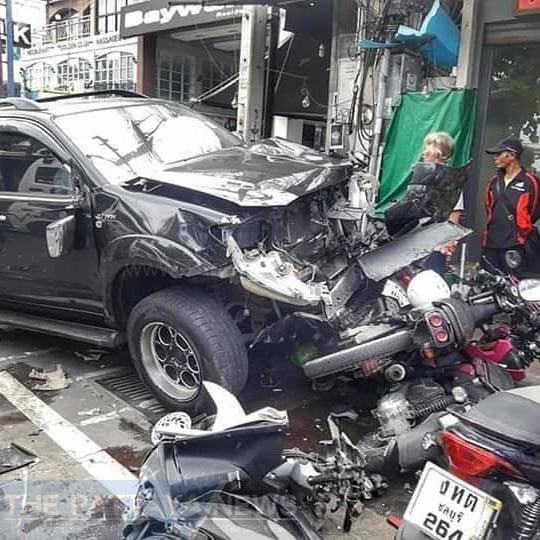 A number of people are now recovering in hospital after a car slammed into a row of motorbikes parked along the Pattaya Beach Road. The incident took place at around 11 am this morning, February 26th, 2019.
Video footage shows a badly damaged black Toyota Fortuner that had crashed into the parked motorbikes.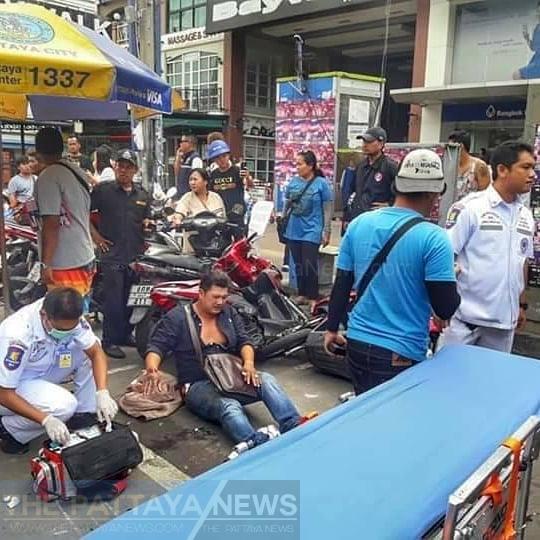 The vehicle was being driven by a foreigner, reported to be English and in his forties, who appeared according to police and witnesses to be intoxicated. Witnesses stated it was being driven at a dangerously high rate of speed when the driver, who has not been named, lost control and slammed into a group of tourists and Thai's at a row of motorbikes.
The accident took place in front of Soi 13/3 near the Baywalk while tourists were shopping and walking on the sidewalk.
The injured, who have not been named to the press at this time, include a 61-year-old foreign woman, a 45-year-old Thai man and a foreign male around 65 years of age. Several other bystanders were lightly injured. A total of fifteen motorbikes and several vehicles were damaged when the driver lost control.
Pattaya Police took the driver into custody and he was brought to the Police station to face a blood alcohol test and face what will likely be many charges. The injured are at local hospitals recovering from their injuries. The driver was not injured.