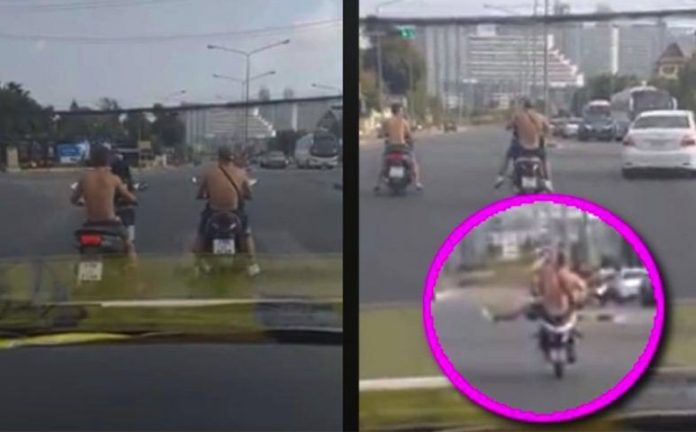 Pattaya's head of police has promised to throw the book at two foreigners caught on video riding recklessly in the Jomtien area of Pattaya.
A video clip that is being widely viewed on social media showed the two men stuck at the lights before they race each other with one man seen splaying his legs and doing a wheelie.
Neither man was wearing a helmet or a shirt.
They could face jail for their antics.
Pattaya station chief Pol Col Apichai Krobpetch told Daily News Online that he had ordered his men to find the tourists. CCTV at the intersection and along Jomtien Sai 2 is being studied.
They would be charged with reckless endangerment of the public as well as not wearing helmets, he said.
The former charge carries the possibility of a jail term.
Precedents exist; earlier this week it was announced that three Thai "big bikers" had been jailed for doing wheelies on the highway. The jail terms were suspended by the court.
In another report Daily News reported that it was not just Thais who were causing annoyance on the roads – foreigners were at it too.
The footage was uploaded to the "Page Clip Dang Facebook".
Source: Daily News