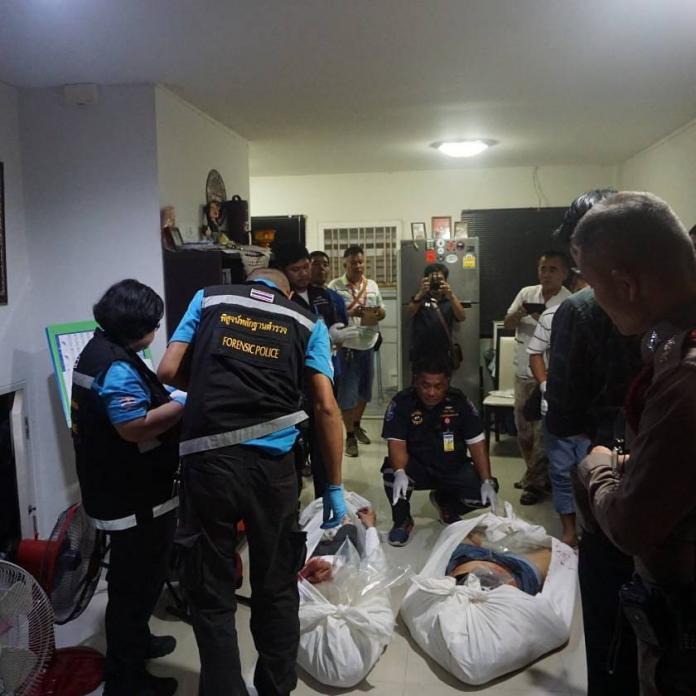 Pattaya-
A South Pattaya disc jockey murdered his girlfriend before turning a gun on himself in a townhouse in Pattaya on November 9th, 2018 in the early morning hours.
Nong Prue Police and forensics teams gained entry to a locked second floor bedroom in the Pattha Estate after neighbours heard three shots and a scream and they called Police.
A deceased man was lying on top of a dead woman.
She was 32 year old Jirawan or "Dao" Abdulmajid and had been shot once in the back and once in the neck.
He was Thanet or "Ton" Khamdaeng, aged 46, who had a gunshot wound to the head. He was fairly well known on the local Thai DJ circuit in Pattaya.
A close friend called Chanasin, 50, said that he had spoken to Ton at 3AM via the Line application. He had outlined many problems he was facing including the care of his five year old son. Chanasin stated to the press that the couple had been having multiple problems and were considering breaking up. Chanasin stated that it appeared the argument was over custody and who would take care of the five year old son.
Ton had not mentioned considering suicide however. It is unknown if drugs or booze were involved in the argument. The aforementioned son was staying with a relative at the time of the argument and was not home.
Now, the son is left with no parents after the tragic situation. Relatives are taking care of the son at this time.