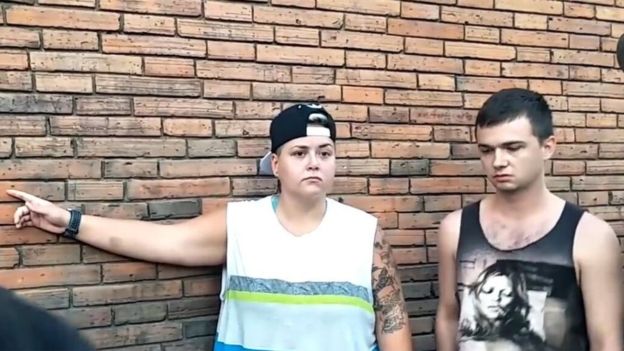 A British tourist accused of spray painting his name on a historic landmark in Thailand could face 10 years in prison.
Local police said Lee Furlong, 23, from Liverpool, has admitted defacing Tha Phae Gate in the city of Chiang Mai.
Video appears to show a man spraying "Scouser Lee" on the gate, part of which dates back to the 13th Century.
Supt Teerasak Sriprasert said Mr Furlong would be charged with "vandalising an archaeological site".
A Canadian woman, Brittney Schneider, has also been arrested and charged with vandalism for allegedly adding her first initial to graffiti on the gate.
"They will face no more than 10 years' jail [and/or] a fine of no more than a million baht (about £23,555)," Supt Sriprasert said.
"They admitted to the crime, saying they did it because of the thrill and they were also a little bit drunk."
A Foreign and Commonwealth Office spokesperson said its staff were "providing assistance to a British man following his arrest in Thailand" and "are in touch with the local authorities".
Thai media reported CCTV from a nearby diner shows four people approaching the gate at about 04:00AM on Thursday. Two of them approach the wall and one begins to spray it.
Mr Furlong reportedly told detectives he and his group were drunk and walking back to their guesthouse when he picked up a discarded spray can and used it before his companion.
After being identified the following day, he and Ms. Schneider were arrested at their guesthouse and taken on a re-enactment to the Northern gate, one of five historical gates in the city, according to Thai PBS.
The other two people shown in the video were not arrested. Chiang Mai is Thailand's fourth-largest city and tourists can visit the historic walled parts of the city.
Thai social media was outraged by the act and are looking for the tourist to face the full ten year sentence and million baht fines. The tourists have told the press they do not have the funds for the fine and regret the act and state they did not know the wall was sacred and they were intoxicated and meant no harm.