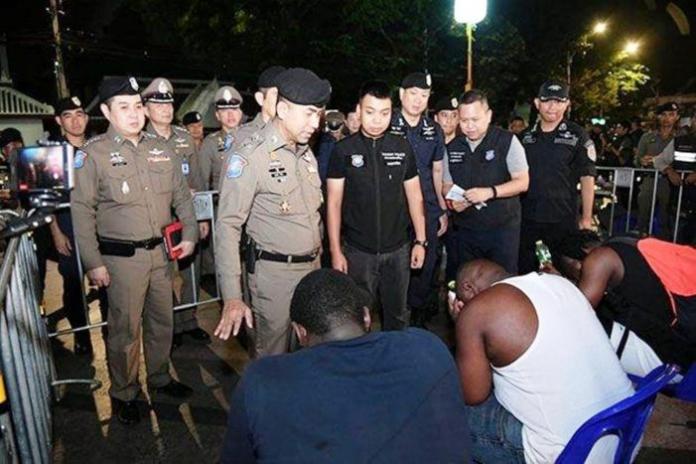 Bangkok-
Thailand's Deputy Prime Minister and Defence Minister Prawit Wongsuwan yesterday instructed Pol Maj-General Surachate Hakparn, Thailand's acting Immigration Bureau chief to crack down on foreigners overstaying their visas or using Thailand as safe haven for criminal activities.
Pol Maj-General Surachate Hakparn has been given one month to arrest and deport thousands of foreigners suspected of staying in the Kingdom illegally, the Nation reported.
Gen. Prawit, who oversees National Security, issued the order during a meeting of the military, police and Interior Ministry security agencies yesterday, according to Defence Ministry spokesman Kongcheep Tantra-Wanit.
Gen. Prawit told General Surachate Hakparn to step up efforts to keep foreign tourists safe and to crack down on transnational criminals who enter the Kingdom posing as tourists.
The Immigration Bureau was ordered to strictly enforce the law, weed out foreigners without visas and overstaying their visas and deport them within one month. It was told to check whether foreigners doing business here were working in professions that were legally reserved for Thais.
Pol Maj-General Surachate Hakparn was recently promoted to acting Immigration Bureau chief after spearheading a series of raids and spot checks that have so far found more than 1,000 foreigners overstaying their visas.
Surachate has strong connections with Prawit whose popularity has been declining after the luxury-watch scandal. The police commander had recently made a name for himself with his crackdowns on crimes related to foreigners as deputy commander of Tourist Police.
Thailand welcomes more than 30 million visitors annually for tourism. The country is also home to millions of documented and undocumented migrant workers from all over the world. Illegal entry and overstay are not unusual for the country.
The Immigration Bureau announced on its website yesterday that there were 1.6 million foreigners living in Thailand between January and August.
Canadians were the biggest group at 9,872 – followed by 9,583 Dutch, 9,566 Bangladeshis and 9,483 Italians. During the same period, more than 10 million foreign tourists entered the Kingdom, the bureau said.
Following Prawit's order, Surachate led police yesterday in collaring 22 citizens of African nations and a Myanmar man on Bangkok's Sukhumvit Soi 3, some of who were just walking on the street.
Eight of them had their documents in order and were released, while Luke Okoli, 18, of South Africa, was charged with possession of marijuana and unlawful entry into the Kingdom.
Kevin Asok, 29, from Guinea, and Ake Dikajvuidi, 25, and Ramaqami Kapita Mwati, 27, of Congo, were charged with carrying fake passports. Ten others were charged with entering Thailand illegally, including the Myanmar man identified only as Suneil, 22.
The others were John Omo, 26, of Zimbabwe, Chers Igbosonu, 24, of Mozambique, Gabriel Williams, 29, of Liberia, Yamoah Gilbert, 19, and Boyyant, 27, of Ghana, Chibueze Casmir, 31, of Nigeria, and Masud Masata, 23, and Mongolola Jacques Pilipili, 19, of Congo.
General Surachate called a press conference yesterday to discuss measures in helping victims of call-centre gangs and 412 romance scams. Police operations over the past years to suppress foreign criminals has managed to return Bt27 million to 133 victims of such crimes, he said.
A crackdown on crimes related to foreigners is ongoing and the court has issued more than 600 arrest warrants for call-centre gang members. More than 30 cases of romance scams are now under investigation.
Thai nationals involved in or facilitating such criminals would also be arrested, he warned.
Expat forums and reaction on social media was mixed, however, it was strongly suggested by many long time legal expats to keep a copy of your passport and entry/exit stamp on your person. It is legal to Thailand to spot check the status of ones passport.