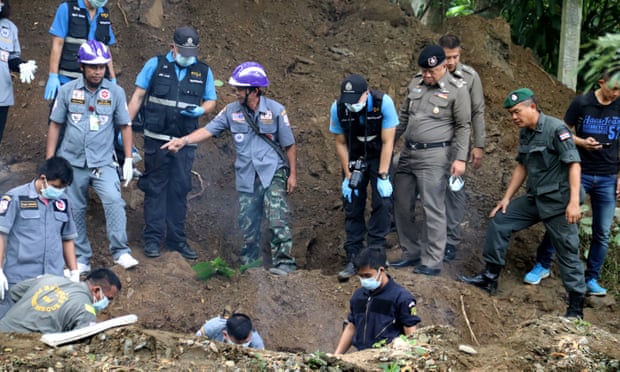 Article text courtesy of The Guardian:
The tension had been building for months, maybe years.
In the days before Alan Hogg, a wealthy Scottish businessman, and his Thai wife Nott, were killed and then buried in the garden of their home, relatives have revealed that the relationship between Nott and her brother Warut Satchakit, who has since been charged with the murders, had soured beyond repair.
For 20 years, Nott's favourite older brother had lived in a house on her and her husband's expansive property where he worked as the chief gardener, looking after the plants, the fruit orchard, the chickens and the 15 cows. According to numerous neighbours, Hogg and Satchaikit tended the 13-hectare plot of land side-by-side, though not always harmoniously.
Nott's and Satchakit's youngest brother Thanom Suddan, 53, said Nott had been planning to kick her 63-year-old brother off the property, after the family conflict became too much.
"She visited me the Saturday before she was killed to tell me she could no longer stand Warut," Suddan told the press, as he sat by their bodies which had been brought to the local Phrae Thammaran temple. "He was creating too many arguments and not looking after the land properly. He didn't even tell them when the dogs died. She told me she was going to ask him to leave."
He believed the tension between Satchakit and his Scottish brother-in-law had also been "building for many, many years, there were many small arguments over the garden because Alan was very demanding". Money too was reportedly an issue, though all the land was in the name of the couple's daughter Robyn.
"Warut and Nott were so close, closer than any of us brothers and sisters, they did everything together," said Suddan. "He had worked for them for 20 years so had nowhere else to go, and wouldn't be able to get another job because he is old." He emphasised, however, that "she didn't seem scared for her life, not at all," he said.
Two weeks previously, Thai police allege Satchakit had sought out a contract killer for his sister and her husband in Wang Chin district, agreeing to pay three men 50,000 baht (£1,200) to carry out the murder. One man had eventually lost his nerve, but at 6pm on Tuesday, police claim two people met Satchakit at the house. They allege one shot the Scottish businessman once in the chest as he fed the ducks at his pond and that the other tied up Nott in the garage where Satchakit beat his sister over the head with a metal wrench. Police claim the trio then hurriedly wiped down the blood near the swimming pool and then buried the bodies in the leafy creek at the back of the property, digging holes two metres deep with a small digger.
The next morning, Satchakit returned to the house to take the couple's car, a new white Range Rover, police claim, and sold it for 420,000 baht (£9,800) to cover the costs of hiring the killers and to fund his escape. It was only two days later when Hogg and his wife failed to meet their friends in Chang Mai that the couple were reported missing to the police. The car theft first led the police to suspect Satchakit's involvement. He was arrested and then released on bail, before being rearrested by police on Monday night. The three men were charged on Tuesday morning.
The murder has left the small rural community, many of whom participated in the search for the bodies, reeling. Despite rarely leaving his house, Hogg was described as a "good, generous man" by Nott's relatives, often lending them money, while Nott often looked after her recently disabled younger brother. Satchakit was known locally as a "kind man" who regularly helped neighbours and people at the local Buddhist temple.
Nott's uncle Sangworn Suttakhun, 78, saw her less than an hour before she was killed when she visited his shop in good spirits. He said "all the relatives are in disbelief."
"We really didn't know anything bad about Nott and Warut," he added. "If they were having arguments, they were keeping it from all of us. She never spoke about it and neither did he."
He added: "I have never seen Warut angry, he is a nice guy and is very kind. So I can't explain why he would do this. We are all in shock because this came out of nowhere for us."
Police general Poolsap Prasertsak, who is leading the investigation, claimed "internal family conflict" was behind the killing. .
Prasith Suddan, 61, another uncle of Nott's who lived just a few kilometres from their house, said: "Warut always seemed like a very kind person, but he was also a man it was hard to tell what he was feeling really inside of his heart.
"But nobody could ever imagine he would do this."