Pattaya-
At 3:30 AM in the early morning hours of September 7th, 2018, Pattaya City Police Major Apichai Khemphet was informed based on a tip from a concerned citizen that several people were playing a dice and card game in public on Soi 8 in Pattaya, which is against Thailand's strict gambling laws.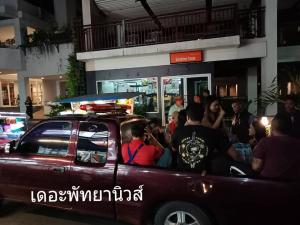 Police rushed to the scene and discovered nine Thai people, including two dealers, gambling in public in front of several shophouses on the busy street.
Police raided the game and arrested all nine individuals. The two dealers, Mr. Anniwat Supararak, 28 years old and Mr. Atthapol Depanant, 25 years old, will face additional charges including potentially running an unlicensed casino. The seven players, primarily Thai women, will be charged with violating Thailand's gambling laws as well as potentially loitering and other laws.
A total of 140 baht was seized in the raid as each player was playing for roughly ten to twenty baht.
All nine individuals are currently being held in Pattaya City Jail for pending court dates which will be on Monday and will spend the weekend in Jail for violating the law.
Editors Note: Gambling is taken very, very seriously in Thailand, even for such a small amount.