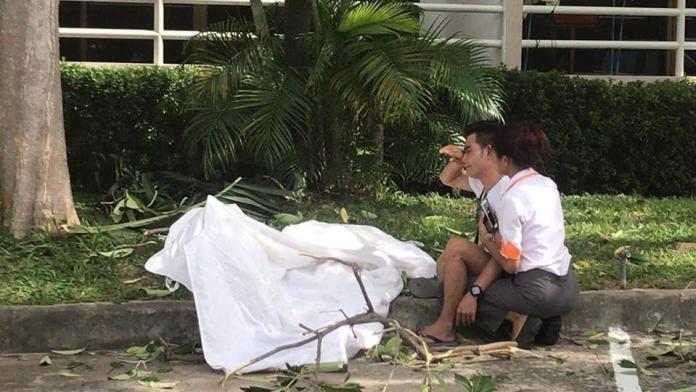 Jomtien-
As we reported previously and posted a gallery of pictures, an 80 year old Frenchman who was an expat in Pattaya leapt to his death at 9:30AM on Monday, September 3rd, 2018 from the 17th floor balcony of his condo in Jomtien, part of the View Talay group.
The man, Michel Hostailler, died instantly and suffered multiple fractures.
Mr. Hostailler's boyfriend, 38 year old Siwaporn Pala, fainted at the scene and had to be treated by emergency staff.
Siwaporn stated that he and Michel had shared the room in View Talay for over a year. He stated that his boyfriend had shown no signs of depression, however, was recently angry over a situation involving his ex wife in France.
Police stated they found no signs of a struggle and that, contrary to original reports, Siwaporn was not in the room when Mr. Hostailler leapt to his death. Siwaporn had visited the local temple to give alms and make merit. Siwaporn stated that when he left the room Michel seemed normal and they embraced on the way out.
Police stated a suicide note was found in the room, however, have not released the contents.