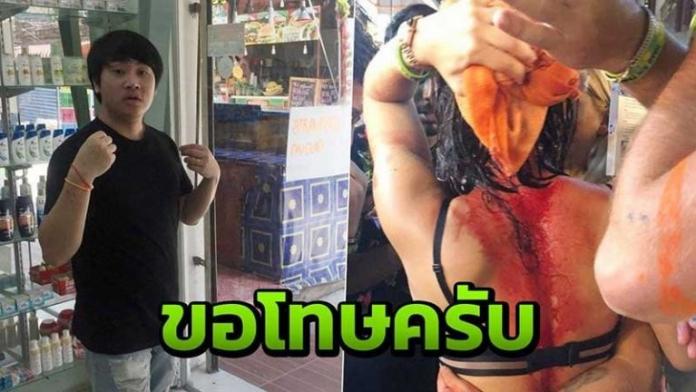 Koh Phangan-
  The pharmacy worker who was caught on a video that went viral bottling a Portuguese tourist over the head has apologized to the country and to the island.
  However, he stopped short of apologizing to the victim, who did not file a police report, was not named and left the island shortly after the incident on a flight to Dubai. The victim also did not show up to a police conference where the police were to discuss who started the incident and potential charges.
  Jakkrit Jantasorn, 29, was charged by police with assault along with an additional pharmacy worker, Pitiphat Sangkhaha. 
  Jakkrit stated to the press that he blames the woman for her actions and refused to apologize to her. He stated the full videos show (which they appear to do so) that she started and escalated the incident and attacked the workers unprovoked which caused them to defend themselves. He admitted, however, that the incident spiralled out of control.
  Jakkrit stated that he asked three times politely for the women to stop sitting, eating on the pavement and blocking the shop entrance. They responded angrily and physically, slapping his co-worker and scratching him in the face.
  He made a public statement where he said the following "I would like to apologize to the island of Koh Phangan and it's people for hurting the image of the island. I have worked at the pharmacy shop for five years without any incidents or problems."
  Meanwhile, the unidentified tourist who left the country also refused to pay her hospital bills and was reported to have skipped out on other unpaid debts as well.