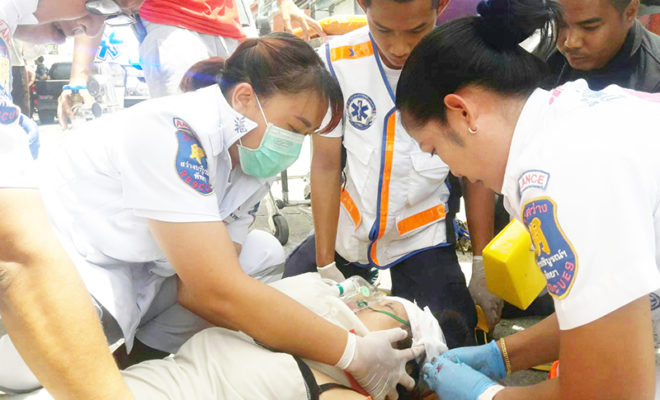 Pattaya-The Sawang Boriboon Rescue Center was called to Soi 73 off Sukhumvit Highway yesterday afternoon to find an unconscious girl who had fallen from her room at the 4th floor of a building in the Soi.
This was the third person who had fallen from their room in less then about 12 hours, the previous two being an Indian Tourist and a Thai man attempting to reach his boyfriend's apartment via balcony. We reported on both these articles yesterday.
Shocked bystanders explained that they heard a loud noise of something falling down and they saw the girl on the ground covered in blood and unconscious.
The rescue team and paramedics provided first aid to the girl who had massive wounds on the back of her neck, shoulder and left leg. She was sent to Pattaya City Hospital in Soi Buakhao in South Pattaya. Police will now investigate this case and talk to the girl when she has recovered from her injuries to find out the truth behind the cause of the incident.
There was nobody else in her room and the door was locked.