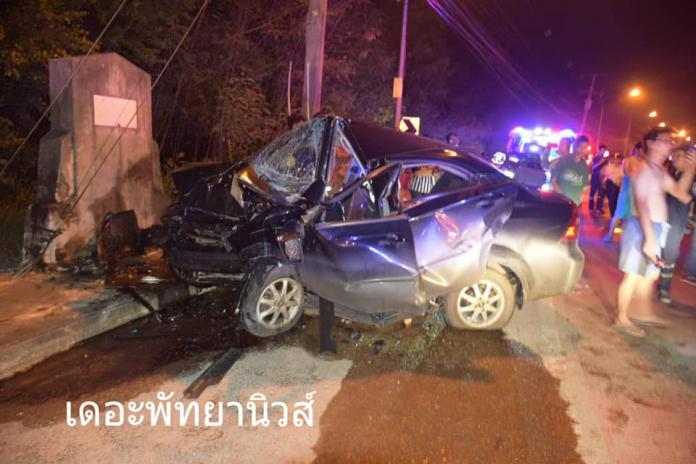 Pattaya-
At 2:00AM on Friday, August 17th, 2018, a Black Chevy Coupe with the registration number of 9805 crashed at a turn near Soi 16 in Banglamung, demolishing the car.
Witness Mrs. Pornthip Sae Taw, 58, whose home is across the street, heard the crash while up watching television. She stated to the press that this dangerous corner, which has several signs saying to slow your speed on approach, often has major accidents, many fatal, in the years she has lived here. She called rescue services as soon as she stepped outside and saw the extent of the crash. She was surprised to see the driver step out of the vehicle, dazed but with only minor injuries to her arm.
Police and rescue workers showed up and took the woman, 37 year old Thana Charnkit of Nakhon Ratchisima to the hospital. Rescue workers said she is in safe and stable condition.
Police say they will be investigating the incident and will be looking at drugs or booze as a possible reason for the crash. The cars speed was stuck at over 100KM per hour on the dashboard so speed was obviously a factor. The turn in question, which is quite steep, suggests 20 KM per hour or less.