Pattaya-
At 3:00AM this morning, August 7th 2018, there was a serious motorcycle accident between A Chinese tourist and a Thai National in front of Soi 14 on 2nd Road located next to the popular Tim Beer Bar and Avenue Shopping Mall.
Shocked staff and patrons of a smaller beer bar directly in front of the accident watched as one of the drivers, alleged to be the Thai man, Mr. Watcharapong Lunnud, 24 years old, lost control and crashed into a parked car directly in front of the bar at alleged high speed. His bike went out of control and clipped Mr. Guo Xiao, 33 years old from China, who was thrown from his bike as well.
Both men survived, however suffered serious injuries. Mr. Lunnud was bleeding heavily from his head and appeared to have multiple internal injuries and Mr. Xiao was unable to respond and move and likely had multiple fractures and breaks. They were both taken by rescue services to local hospitals for care in serious condition. Mr. Lunnud was not wearing a helmet, however Mr. Xiao was which appeared to save him from more serious head injuries.
Police will be investigating CCTV nearby which they confirmed was working to determine fault in the incident and if witness statements on the cause were correct.
Pictures and Video below, warning, Graphic images. Full gallery of images can be found on our Instagram, Instagram.com/Thepattayanews.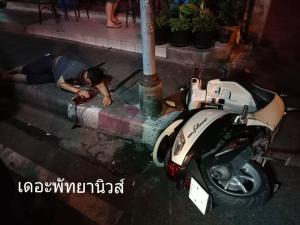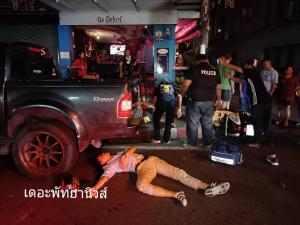 hi