Pattaya-
In the past two months Thai authorities have made the Northern section of Pattaya Beach by the Dusit Hotel much better by importing matching sand from a nearby land and tripling the size of the beach much to the delight of tourists, vendors and Tourism authorities alike. This successful replenishment has caused the authorities to announce they will be expanding and replenishing the remainder of the beach down to Walking Street before High Season.
However, recent rains as the photo below show that merely replenishing the beach, especially the middle and Southern sections of Beach Road, will not be enough as damage is already being caused to the newly replenished sections.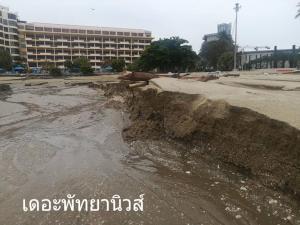 Local expats and concerned citizens took these pictures of further erosion during recent rain storms and with the worst of rainy season still to arrive it is predicted that further erosion will take place. The primary issue is that rainwater flows down from the higher streets to Beach Road and then stagnates and floods Beach Road during every major rainstorm before they flow out to the ocean, eroding the Beach in the process. The city has installed expensive pumps at multiple areas along beach road that help drain the water quickly but have not totally eliminated the problem.
Government authorities have given a further 400 million baht to local authorities tasked with finding a better solution so that the newly replenished beach does not also erode and vanish. It is unclear, however, what the solution will be at this time.