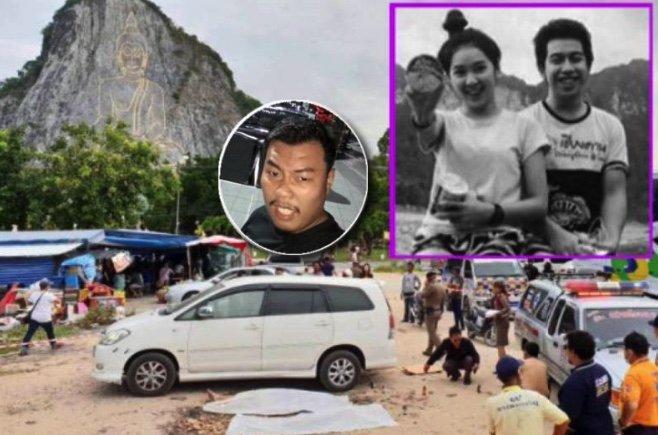 A combined contingent of Chonburi, Sa Kaew and Region 2 police surrounded at house in Sa Kaew province at 2am this morning where they ordered a man known as "Born" to come out with his hands up.
He complied and was taken into custody. He is 35 year old Kiatisak Surangsaengmeebun and has admitted to being the driver of a vehicle used during the double murder of "Spy and Fos" who were killed in a double murder at the car park on Sunday.
He was adamant that he was not the shooter but said he was paid 100,000 baht to drive by wealthy Phuket man Panya Yingdang – known as "Sia Uan" or Mr Fat.
He told the cops that he took Panya and Sayan to the scene of the crime. Two cars were used.
After the crime he drove Panya to Klong 13 in Khao Sam Sip of Sa Kaew where Panya changed vehicles after giving him the 100,000 baht. He said he believed Panya then traveled to Cambodia though he didn't know which crossing he used.
Kiatisak then went in a Vigo but had an accident on the way near the municipal offices in Sa Kaew. He claimed he had the accident because he was so nervous. He claims to be unaware of what exactly the dispute Mr. Fat had with the couple.
He decided to go and hide out at his mother's house where he was arrested.
Kiatisak was personally taken away by the head of the Chonburi police Pol Maj Gen Nanthachart Suphamongkhon for further questioning back in Chonburi.
The case continues.