Pattaya-
We reported earlier that two Iranian Nationals at 3:30AM this morning on Walking Street around the Bayshore Hotel refused to pay a fee for 2000 baht for throwing a cigarette butt in front of an sign and area where littering is against the law and the sign clearly states the fine. That is, now that the rest of the story has come out from City Officials, only partially true.
Mr. Shahrokh Assadizadldleh, 32, from Iran and his friend admit to dropping a cigarette in a moment of lapsed judgment near the Siam Bayshore hotel. Several men who appeared to be police in uniform detained him. (They did not arrest him or take him to Soi 9.) He paid the spot fine of 2000 baht they demanded after showing him the sign but did not show him a receipt. He stated they appeared to be in official uniforms. After he spoke with his friend and attempted to speak to the manager of the Siam Bayshore who was not available he went to the tourist police box near Siam Bayshore at the Bali Hai Pier end to complain.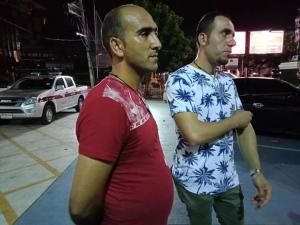 The officials on duty at the tourist police assistance table stated that he should have, by Thai law, been provided a receipt. Additionally, littering fines are supposed to only be paid at City Hall and not taken on the spot by officials.
Unable to find the individuals who fined the Iranian tourist the police box decided to pay the fine again themselves and pay at City Hall this morning to issue the man a receipt. The Iranian admitted to the offense, promised not to do it again, but also cautioned that one should always ask for a receipt.