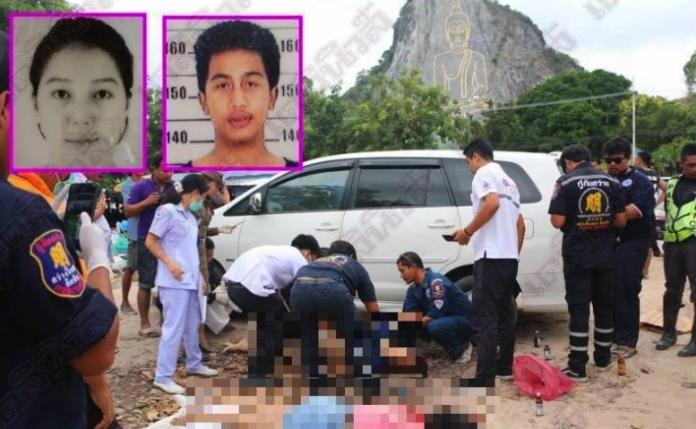 Pattaya-
A young Thai couple were brutally murdered execution style in front of dozens of tourists in broad daylight today directly in front of major local tourist attraction, Buddha Mountain.
Dead side by side at the scene on Sunday were Paweena Nameuangrak, 20, and 21 old Anantachai Jaritram.
Paweena had been hit four times by 9mm bullets and her boyfriend three times. Police found six shell casings and a lot of blood at the scene.
The couple were lying by a Toyota Innova car that the couple and two friends had rented for the day from a hotel where they were staying in South Pattaya.
Their two friends Worathep Masoongngern, 20 and Sayan Sreesuk, 43, were unhurt.
Noppadol Bunsamer, 33, said that the tourists had hired him to drive them around attractions in the Pattaya area. They had been to the floating market and Nong Nuch gardens and were about to go back to town.
The couple had just walked off to get a drink when shots rang out. Noppadol said he shrunk down in the driver's seat in fear. Dozens of tourists ran screaming and hiding behind vehicles and other items to get away from the gunfire.
Worathep said that the couple were high school sweethearts from outside the Pattaya area having met in M3 (Year 10). They had decided to go to Pattaya to celebrate Paweena's birthday on Saturday and to take advantage of the four day holiday weekend. He said that many men were interested in Paweena as she was a very attractive woman.
Police suspect a love triangle and are looking for the driver of a red plate Honda CRV license number ก (gor) 5195 where the shots are believed to have come from. They have asked that members of the local community keep an eye out for this vehicle but be cautious as the driver is considered to be armed and dangerous.
Buddha Mountain is a popular tourist area where a large Buddhist image is carved into the mountainside and sees up to several thousand tourists a day.
We will provide more updates as we get them, however, police are acting swiftly and have reassured the public that this was an individual dispute, likely a love triangle, and no tourists were harmed or in danger during the incident.