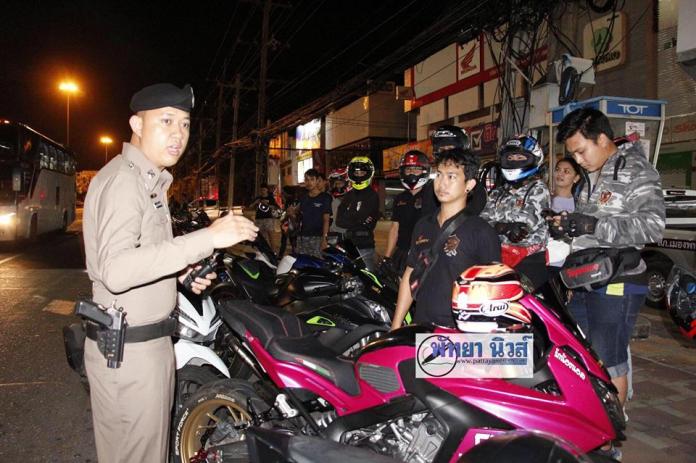 Pattaya-
On the early morning hours of July 29th, 2018, at roughly 1:30AM right after the religious holidays have ended, Lt. Gen. Nantachat Supamongkol, Chonburi Police Chief and his team responded to complaints from concerned citizens of large "gangs" of teenagers racing loud and large bikes at high speeds dangerously through the streets of Jomtien at various locations. He and his team arrived at the source of the complaints on Second Road and discovered nearly one hundred juveniles near the area of Jomtien Second Road, with many bystanders and people watching as well as roughly thirty large bikes and racers.
The juveniles had nearly taken over the entire street area, shutting it down to race and disrupting traffic. Police took quick action and required all the juveniles to take drug and urine tests. Several tested positive and were taken into custody and their parents were contacted to pick them up and speak to the police.
Multiple motorbikes were confiscated, primarily for having exhaust pipes and noise levels that are against the law and noise ordnance restrictions. The juvenile owners were told their bikes could be picked up by their adult relatives but the exhaust and noise violations must be fixed and paid for by the offenders and returned to legal levels before the bikes would be released. The bikes were taken to a local automotive repair shop to perform the required changes to make them compliant.