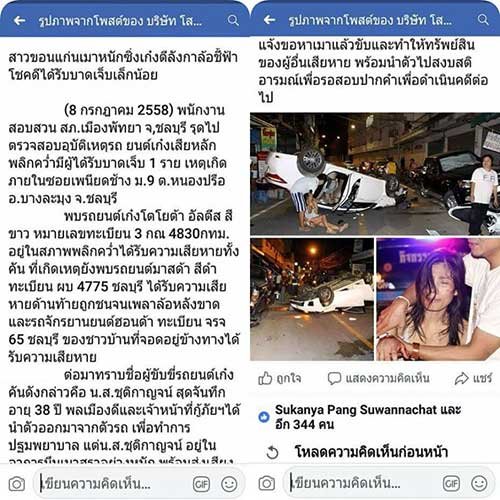 Pattaya:
We reported yesterday on an early morning road rage incident in which an intoxicated Thai lady killed a coffee vendor on second road then fled the scene and proceeded to take out a taxi cab and five motorbikes on second road, causing major damage to her own vehicle. Social media has now discovered that this is NOT the first time she has caused massive property damage and injuries and escaped unscathed herself while injuring others.
She did this all before in 2015.
In 2015 she was driving the same Toyota Altis registration plate 3 กณ (gor nor) 4830. On that occasion she hit a Mazda and overturned.
She was named then as Chutikarn Sutjantheuk, then aged 38.
She wasn't hurt but was charged with drink driving and property damage by Pattaya police. It is unknown if the charges were carried out to court. It is also unknown if the current incident will lead to charges, as it should.
Social media and the concerned public are demanding action in this case.