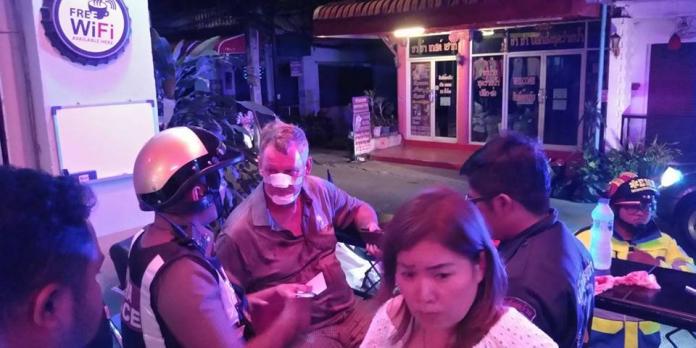 Jomtien-
Over the weekend 65 year old British Citizen Mr. David Williamson, who has since relocated to Pattaya and is living here legally as a retired expat, was brutally assaulted and found covered in blood after he got in a fight with a tourist. The fight occurred at The Roxy Beer Bar located on Soi 7 in Jomtien. He was given first aid at the scene before being taken to the hospital by rescue and emergency services.
Staff said that the un-named other individual and Mr. Williamson knew each other and normally got on well. They stated that the fight started over a youtube music selection when the customers disagreed on the genre of music they wished to play and the argument escalated to a physical fight. The other tourist fled the scene shortly after the fight while Mr. Williamson stayed for the police.
Police will be looking at CCTV and seeking more information on the other individual in an attempt to charge him with assault and determine who started the physical confrontation.