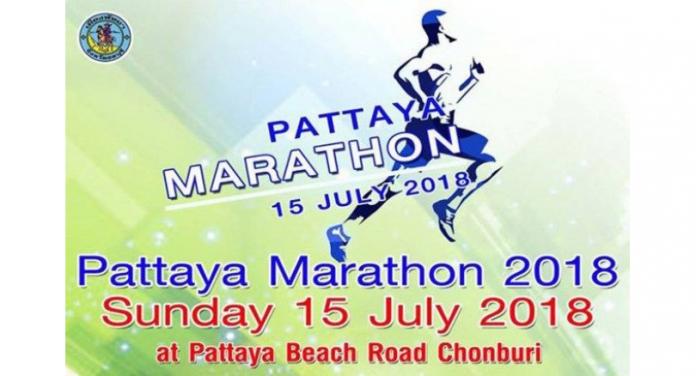 A major international sporting date in Thailand's calendar of festivals and events is the Pattaya Marathon, and 2018 marks the 27th edition of this popular race with organisers expecting 10,000 runners from around the world.
With the venue being the renowned seaside resort city of Pattaya, situated 140 km from Bangkok, runners will have picturesque coastal scenery through which to enjoy a different perspective of this ever-popular destination.
The 'Pattaya Marathon 2018' race route is designed to impress both participants and spectators. It begins at Central Festival Pattaya Beach on Pattaya Beach Road and runs alongside Jomtien Beach, passing Pattaya walking street, Bali Hai Pier and Borommaratchachonnani Bridge on the way. There's a challenging uphill stretch of 2 km towards Khao Phra Tamnak, Jomtien Sai 2, Sukumvit Road and Chaiyaphruek Road before the route turns back to Pattaya Beach Road and the finish line.
The 'Pattaya Marathon 2018' race program includes five categories of run – the 42.195 km full marathon, 21.100 km half-marathon, 10.550 km quarter marathon, wheelchair quarter marathon, 3.7 km student fun run and a fun run.
The full marathon starts at 03.00 hrs. and follows the above route, while the half-marathon begins at 05.10 hrs from Bali Hai Pier and runs the same route as the full marathon from this point. The quarter marathon starts from Bali Hai Pier at 05.45 hrs. with its route passing the lighthouse and Pattaya view point and continuing downhill at Khao Phra Tamnak to Pattaya 3 Road before turning back to the starting point for the finish.
Importantly, many venues, especially Night clubs, Discos and Bars will be closed early to avoid any issues as the route runs through Walking Street. So, for those who want to party, keep in mind they may be closing as early as Midnight.
The wheelchair quarter marathon starts at 06.20 hrs. while the students fun run and fun run get under way at 06.30 hrs. from the Dolphin Circle in North Pattaya, and these head to Sukhumvit Road and back along Beach Road again for the finish.
Rewards for runners include souvenirs, shirts, trophies, medals and cash for the top five runners in the 42.195 km marathon, 21.100 km half-marathon, 10.500 km quarter marathon, 3.7 km fun run, 3.7 wheelchair quarter marathon and 3.7 km students fun run (except the souvenirs). The male and female runners with the best times will also receive a specific award.
'Pattaya Marathon 2018' registration can be made by visiting the Subdivision of Sports Tourism Development, Pattaya City Hall which is open Monday to Friday from 08.30 – 18.30 hrs. and on Saturday and Sunday from 08.30 – 16.30 hrs. Online registration is available on http://www.pattayamarathon.go.th/.
For more information, please see https://www.facebook.com/Pattaya-Marathon-366422933378043/