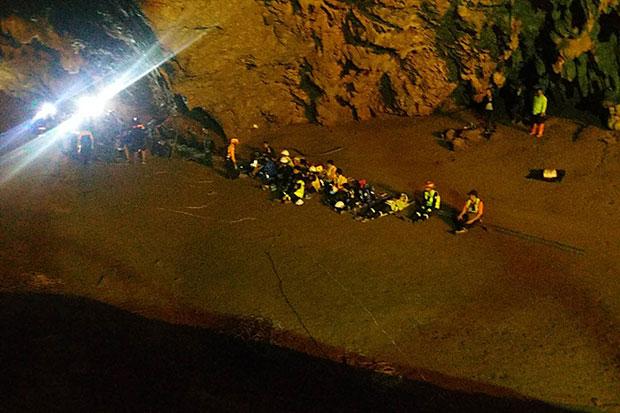 Thailand-
As widely reported by Thai media and on our social media feeds, the missing soccer team that has been trapped in the Tham Luang caves for ten days near Chiang Rai and the Myanmar border have been discovered.
They were originally thought to be located in the Pattaya Beach chamber, thus named because it is generally a small patch of dry land with a lot of water, similar to the actual beach in Pattaya. However, that chamber was also found underwater. English cave divers Richard Stanton, 56,  and John Volanthan, 49, two of the most celebrated cave divers in all of England and some of the top cave divers in the world decided to press ahead through several smaller tunnels hoping to find dry space.
Roughly 400 meters past Pattaya Beach this is the scene where they found a narrow ledge and all thirteen missing people, frail, hungry and tired but in general good health and strong spirits after ten days trapped underground.
However, the job is far from finished.
Authorities have managed to bring in a qualified doctor and additional support after the British divers located the missing team.  The doctor has evaluated the health of all thirteen and states that nearly all are in great health for ten days underground with no food and muddy water to drink. None have any major injuries or problems. However, it is going to be a long and difficult road to get the team out.
They have been brought food and electrolyte beverages and have been eating and drinking normally. Fears that they would be weak, unable to move and unable to eat without hospital assistance were luckily unfounded.
They are stranded on a small muddy ledge area elevated above the main flooded passage. None of them know how to swim or have dived before. Experts and authorities are conferring on the best way to get them out of the cave, however, warn that it could be substantial time, even months, to drain the water to get them out. Boring into the cave at a location near them has been deemed potentially risky and difficult. For the time being, however, the air and oxygen has been classified as safe in the cavern they are trapped in and they are being brought supplies for up to four months to the cavern to keep them fed and healthy.
We will continue to give updates.