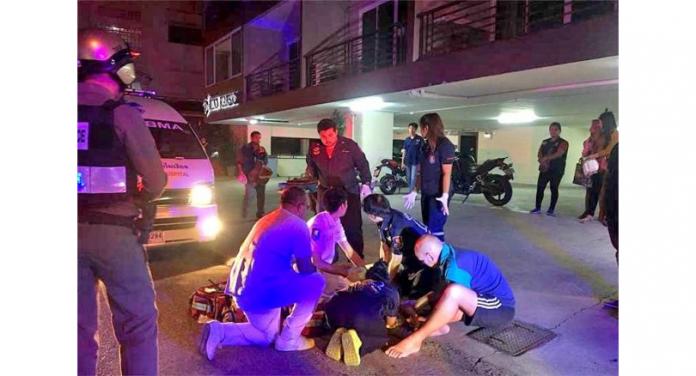 Pattaya-
Australian National Travis Crow, 39, from Melbourne was detained and questioned by Thai authorities over the death of his girlfriend, Wilawal Poolsukserm, 28. She fell from a fourth floor rented room of the Mint Mansion apartment block in Bin Lambung district around 2.15am Monday morning as we previously reported.
We have now gotten details on the results of his interview and the statements that had made as well as more about their situation.
Footage taken at the scene showed paramedics trying to revive the woman as she lay on the street while a white man, dressed in shorts and T-shirt, knelt by her side, crying and holding her hand.
Ms. Poolsukserm, who police said worked in a bar in the resort town's red light district, died after she was taken to Pattaya Memorial Hospital.
Investigating officer Jiraya Thongchoy told the press Mr. Crow had appeared distraught at the death of his girlfriend of two years and had been released from custody after questioning.
Ms. Poolsukserm's body had also been released to relatives in her home province of Udon Thani, for burial despite the fact investigations were continuing. Mr Crow is understood to have paid 20,000 baht towards the funeral.
He told police he visited Thailand two or three times a year for up to a month at a stretch to spend time with his girlfriend, and on the night she died the two had been drinking in bars around the tourist town.
The pair returned to their room around 1.30am and had what he described as a minor, drunken argument before he went to have a shower and told his girlfriend to go to bed.
He stated he emerged to find Ms Poolsukserm standing on the balcony and when he asked her to come in, she jumped, Lieutenant Thongchoy said.
Late Tuesday, a distraught Mr Crow told Australian press by a phone interview that the argument that preceded her death "was nothing more serious than what other couples have" and that he was devastated at her death.
"I've just come back to the room where I lost my girl. I'm here on holiday but come here quite often to see my girlfriend," he said.
Mr. Crow, although released, will continue to stay in Pattaya while authorities continue to investigate her death and potential additional CCtv footage. Local police say Mr. Crow has been very cooperative.