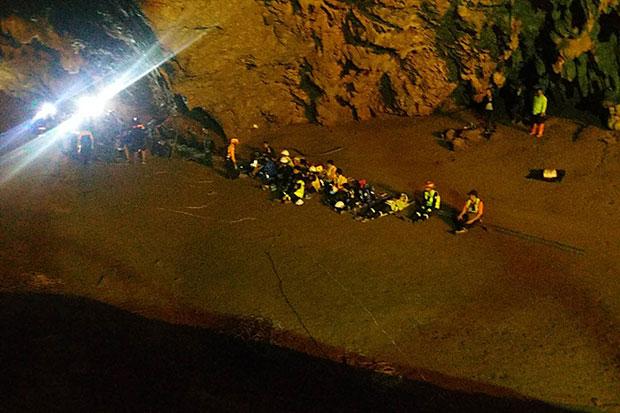 Chiang Rai-
Update as of 10:20PM on Monday, June 25th.
Despite some early reports, the soccer team trapped in a cave system near the Myanmar border in Chiang Rai have still not been rescued.
Roughly one hour ago, around 9:00PM Thai time, officials made the call to temporarily pull out after swimming up to 7KM inside the flooded cave complex due to rain and rising waters and limited visibility.  Family members and an increasing public and media presence remain camped outside the cave entrance hoping for positive news.
The elite Navy Seal Diving unit of the Thai Royal Navy, located in Chon Buri near Pattaya and who have had training from US Navy Seals during Cobra Gold yearly, are the primary rescue operation team at this point and were called in earlier Monday after authorities in Chiang Rai were unable to get into the cave with their own resources.
The boys, aged 11-15, are believed to have entered the Tham Luang Nang Non cave in Chiang Rai province with their 25-year-old coach late on Saturday afternoon. A mother reported that her son did not return from football practice that day, prompting the search. Their coach, 25 years old, was with them. A total of 12 students are believed trapped.
Captain Anant Surawan, chief of the Underwater Demolition Assault Unit, said the darkness and water level were posing risks for the operation. All were ordered to return to map out the next moves, he added. Locals and forest rangers said vertical shafts also provided entry to the complex and that there were other remote and difficult entrances but they will be looked at by the teams for a point of entry.
The Navy team states that based on evidence they found, including backpacks and items abandoned in flooded caverns, that the students kept heading deeper into the cavern complex and they strongly believe they are still alive and headed to an area that cannot be flooded due to the cave level according to forest rangers but is roughly 8KM in and very difficult to reach.  They have sent supplies in water proof packages with fresh water and food through the cavern complex hoping they will reach the predicted dry portion as the current carries to that portion.
We here at The Pattaya news hope for positive news.