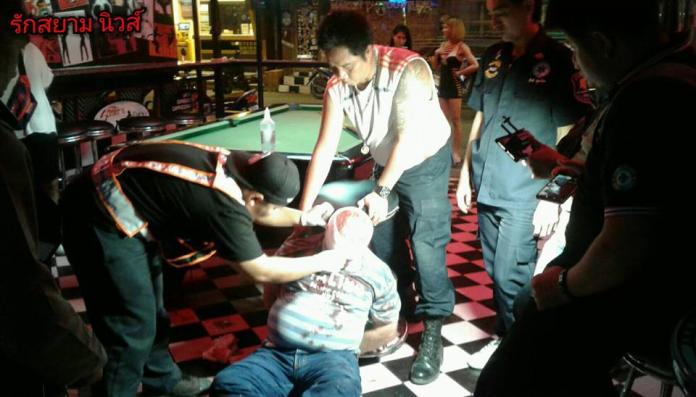 Pattaya-
Details are scarce on this one but a man, very, very intoxicated and not identified by the police was beaten by another customer and staff members at The Pook Bar Ladyboy Bar on Soi Buakhaow.
Mr. Nakarin Chan Kaew, age 26, spoke to the press and police and described the incident as follows. They stated the victim, believed to be British, was staggering in a very intoxicated state in front of the shop and essentially barely able to walk being annoying and touching strangers. The staff offered him food and a bottle of water to get him to leave as he was not ordering anything and obstructing the entrance. He staggered around the bar refusing to leave and started bothering another customer and a ladyboy he was with. The other customer told him to get lost in not so nice terms and they proceeded to argue. Neither party previously knew each other.
At this point, one of the men, it is unclear who, hit another with a bottle. The drunk man, according to staff, attacked the ladyboy with the customer. The fight then escalated to involve staff members and other patrons. It ended with the drunk man who had initially caused the problem hit several times in the head with bottles and left a bloody mess on the floor by the pool table. The staff claims it was the other customer who did the majority of the hitting and that the drunk man was the instigator. They also stressed he was not a customer as he refused to order anything.
The other mystery customer was stated to have fled before the police and medics arrived. Another report states that the man had the argument only with ladyboys and ended up fighting with them.
The unidentified man was taken to the hospital and when sober the police will look at CCTV and speak to him. The man was, according to police, so drunk he could not talk and barely walk.
We will get to the bottom of this and provide more details as we get them.