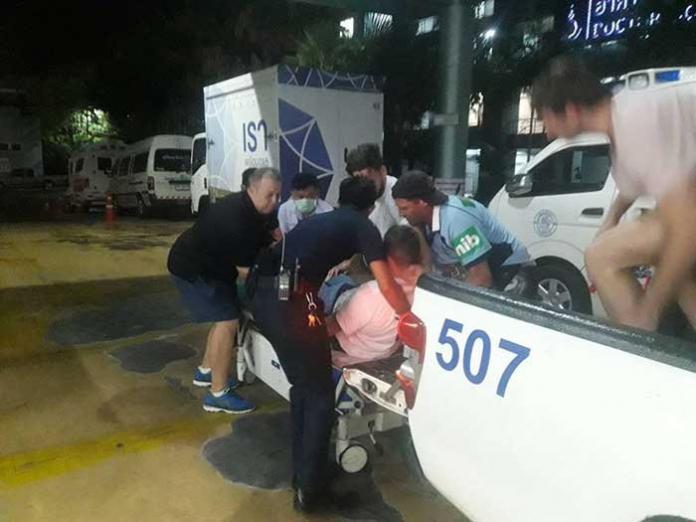 Pattaya-
As we have reported previously, after Australian Jeremy McCall, 22, was stabbed in Mixx Disco last week the Thai authorities have been seeking a still un-named Israeli citizen. A further timeline of the incident has also come to light since the stabbing. We will cover this time-line first and then discuss Israel's position on the incident.
4:00AM (Approx)- Mr. McCall touches a woman with the Israeli man, who we will call Mr. I, and claims he is trying to get her attention. (He stated to the press that they had been with her for hours previously in the evening and says CCtv footage proves this. Police have not confirmed this statement.)
4:01AM- Mr. I in a fit of anger withdraws a small flip knife and stabs Mr. McCall in the side, hitting a major organ and putting him in critical condition. He has since recovered and returned to Australia and is now in stable condition. The girl with Mr. I and bystanders attempted to stop him from this action.
4:03AM- As Jeremy returned to his table, still not aware he had been stabbed due to intoxication and shock, Mr. I, who had already paid his bill, said he was going to the bathroom to the group with him. (This may have caused the original bathroom confusion to the media). He left the group. Security did not stop him as they did not know at that time Mr. McCall had been stabbed and the knife was a very small and highly concealable flip knife that can easily be brought through security.
4:10AM- Mr. McCall, bleeding heavily and obviously stabbed, is brought downstairs by his friends, family and security as an ambulance and police are called.
4:30AM- Mr. I booked a taxi through a popular taxi application and went straight to the airport. He did not stop at his hotel for bags or belongings. It is assumed he had his passport on him.
4:45AM-Mr. McCall is taken to the hospital. He later was taken to a second hospital.
6:00AM-Mr. I arrives at the airport and books the first flight out to Israel leaving around 9:00AM. No flags are raised.
9:00AM-Mr. I flys out of the country just as the news story is breaking to the mainstream press.
The Pattaya news has sought more information on Mr. I and have discovered the following, as stated by the Israel embassy:
"Under Israeli law, no citizen of Israel can be extradited to face charges for an alleged crime committed on foreign soil. Israel is aware of this matter and will be investigating this citizen and issue with our own internal systems and checks and balances."
It is widely believed that the person will face no charges or penalties in Israel.
Thai authorities have stated that the individual has been identified and flagged to be arrested if they return to Thailand. However, considering that Mr. I, likely knowing his countries rules regarding extradition and crime overseas due to fleeing the country so quickly, it is unlikely he will return to Thailand.