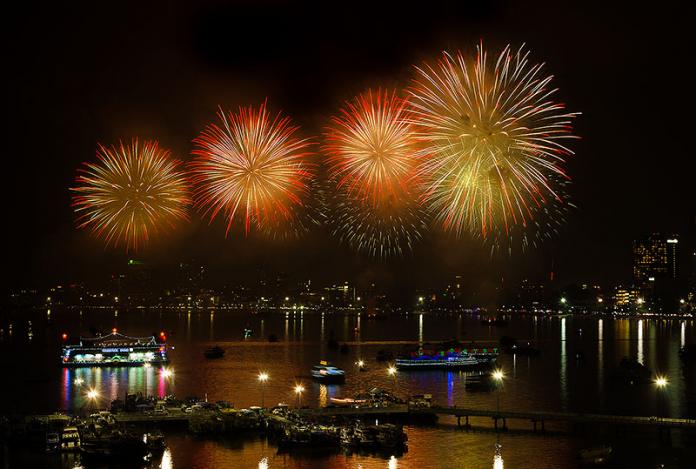 The Pattaya International Fireworks Festival returns this month, exploding in the summer for the first time on June 8th and 9th!
Canceled in 2016 due to the royal mourning period and in 2017 after the Interior Ministry nixed its budget, the popular event will unfold again on Pattaya Beach, but this time in June instead of the traditional late November.
Tourism Promotion chief Ornwora Kornpin said May 22 that the "World of Color" pyrotechnics show will begin each night at 7:30 p.m. with participants from Brazil, Thailand, Italy, Sweden and the United Kingdom. Each country will have a 45 minute show each evening for a total of several hours of fireworks.
In between exhibitions, attendees will be entertained by concerts from Thai bands including Big Ass, Modern Dog, 25 Hours and Playground.
The ENTIRE Beach Road will be closed from 3PM-Midnight both days. There will be multiple concert stages and approved vendors set up throughout the street. Security will be strict and multiple police and army officials will be on deck. Traffic will be heavily affected throughout the city due to the festival. Fireworks will be visible anywhere on Pattaya Beach but get there early to get a good spot on the beach!