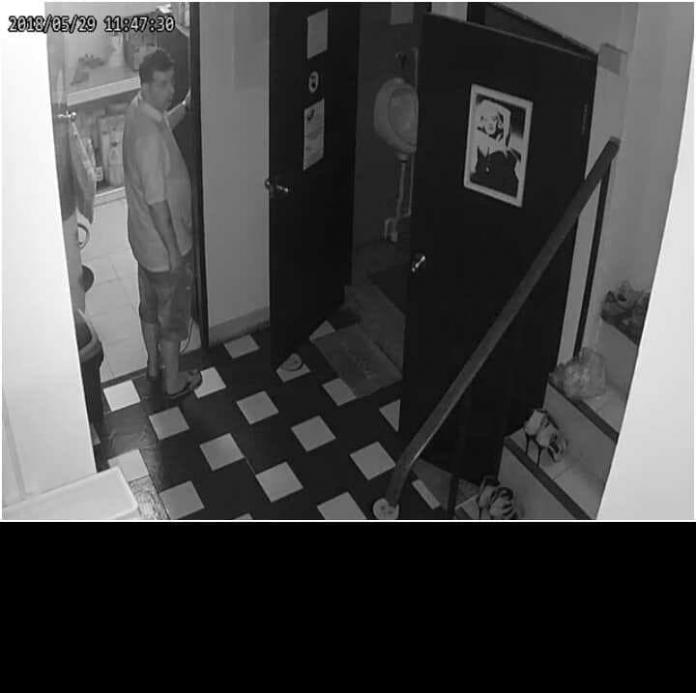 Pattaya-
On Tuesday, May 29th 2018, which is a religious holy day a brazen thief robbed the Red Bull Bar and Guesthouse at roughly 12:30PM.
The owner, Erik, states that the night before the man arrived and asked to rent a room but wanted to go out for one more drink before the bars closed at midnight. The cashier on duty agreed and gave him the key to the room but said would give the key to electric when he came back and take the payment. then. The man, who is a foreigner but has not been identified yet, said he would be right back but did not return. It is unclear if he provided identity to the guest house as he had not fully checked in yet.
The man never returned that night.
The next day, CCTV footage showed the man return to the bar when it was clearly closed at roughly 12:30PM. As can be seen on the photos below he did not go to the room he had been given but rather went behind the counter, tried his key on the till, opened several unlocked drawers, wandered through the supply closets and stole, according to Erik, many bottles of liquor to a total of about 10,000 baht, carrying out of the bar. The CCTV cameras did not show where he carried the boxes of liquor that he stole to.
Police were called right away when the theft was discovered but the man had already escaped. They will be checking CCtv cameras on the street in the area to see if they can identify the vehicle the man left on.  If anyone recognizes this man, please contact us on Facebook at The Pattaya News or through email by Pattayanewseditor@gmail.com. The owner believes the man is a local and not a tourist and came in the night before to scope out the bar.
Thank you.