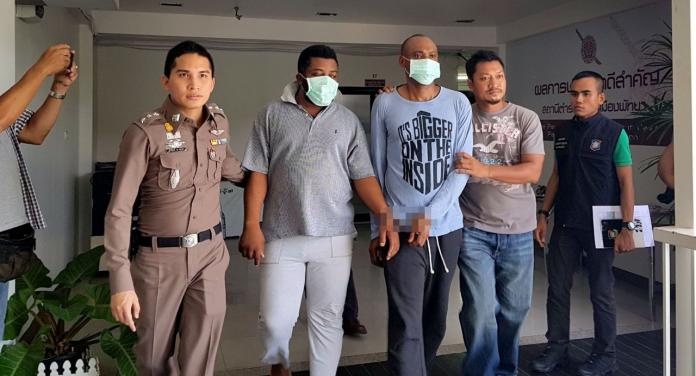 Pattaya-
Pattaya police have arrested two Nigerians alleged to be members of a romance scam preying on Thai women.
Ositadima Ibeh, 28 and Chinedu Calistus Ndubuisi, 30, were accused of being members of gangs conducting romance scams and skimming cards, said Pattaya police chief Pol Colonel Wichai Krobphet at a press conference on Monday.
Police seized forging tools for copying ATM cards from them, Wichai said, along with fake ATM and credit cards, as well as fake ID cards.
Wichai said the pair's latest victim appeared to be Wilaiwan Pongkwapol, who had transferred her money to an account.
Police monitored the account and made an arrest after the two suspects allegedly withdrew the money from an ATM machine at the Kasikorn Bank on Soi Arunnothai in Central Pattaya.
The two claimed they were hired by another Nigerian to withdraw the money and then deposit it to the man's account in exchange for a 5 per cent commission. They said they had so far deposited over Bt1 million to that account. They claimed they were not aware that what they were doing was wrong.