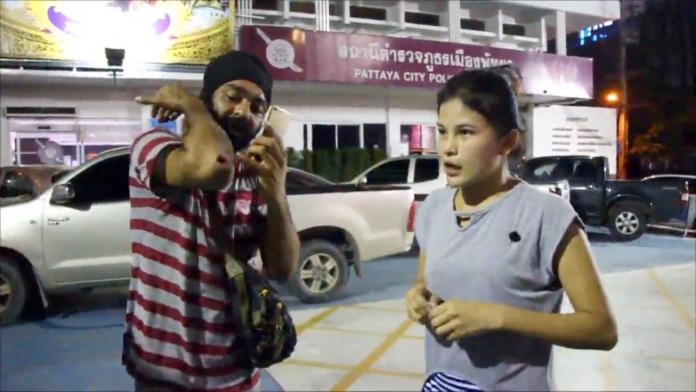 Pattaya-
As reported by us and widely through other media yesterday that two Indian tourists were attacked by Beach Mat Vendors on Beach Road near Soi 9 it is turning out that the two Indian "tourists" story was not quite what it seemed.
The two Indian "tourists" are not tourists at all but rather long time Pattaya residents with legal work permits and work visas working for an export company, which they forgot to mention to the police during their report.
They also "forgot" to mention that the two Thai men that attacked them were not Beach Mat Vendors but rather stated as business associates with their company. The Indian Nationals, Baldeep Singh Gultali and Gurwiwder Singh, stated that the Thai woman with them was "confused" and thought that the Thai men were beach mat vendors, despite them speaking in fluent Thai and describing the situation to her as well as the Indian men, who speak Thai. They claim they did not lie, despite multiple witnesses to the opposite including the initial police responders.
Police Col Apichai Krobphet, Chief of Pattaya police, says the true story is quite different after interviewing all parties involved and The Indian men admitting there was some "confusion."
Mr. Baldeep, for an unnamed business purpose, needed to transfer 3000 baht to India but only had 2500 baht on him. He had Mr. Singh call a business associate, the two Thai men who have not been named, to bring them 500 baht. However, when they arrived both parties state that Mr. Singh refused to give money or pay the Thai associates for the delivery from quite a ways away in the middle of the night. At this point an altercation broke out between the two parties over the business dispute. A beach mat vendor attempted to break up the fight but failed and this is where the Indians state "confusion" set in.
Police are further investigating the now determined personal business dispute but it is good to know there are no gangs of Beach mat vendors "owning" the beach. Perhaps in the future they should not conduct "business" at 1:00AM on Beach Road.