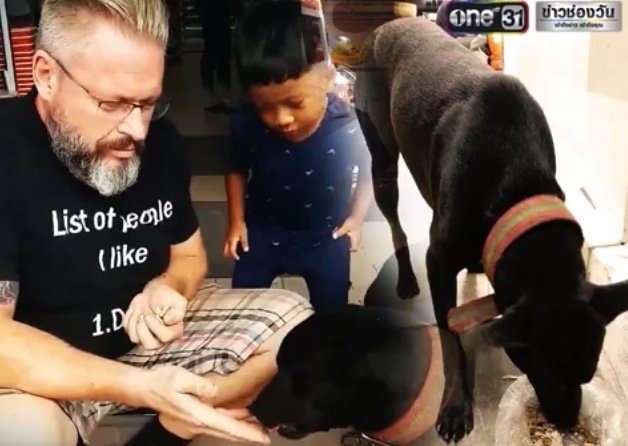 Pattaya-
A westerner in Chonburi was filmed taking pity on a soi dog after a motorcycle taxi rider was shown attacking it with a stick outside a convenience store and injured the dog.
In a sentimental video accompanied by instrumental music produced by Thai Rath News Michael James Benz was filmed stepping in to save the dog named as "Jao John".
Mr Benz was wearing a T-shirt that proclaimed: List of people I like: 1. Dogs.
Nothing else was listed.
The animal was shown being loaded up onto Mr Benz's conveyance that appeared to be a motorcycle with side car.
This time a more kindly motorcycle taxi guy was helping cradle the animal.
Thai Rath News said "Jao John" was heading for a new life.His name was taken from the first syllable for the Thai word for stray.
As for the motorbike driver who attacked the dog it is unclear what prompted the attack or if any police investigation will take place, however, with the outcry on social media over the attack it is likely the police will take action as this is the second damning incident for motorbike taxi drivers in less than two weeks after a German tourist was attacked by a driver in the prior week. Locals where the soi dog lived said the dog was non aggressive and friendly to everyone.