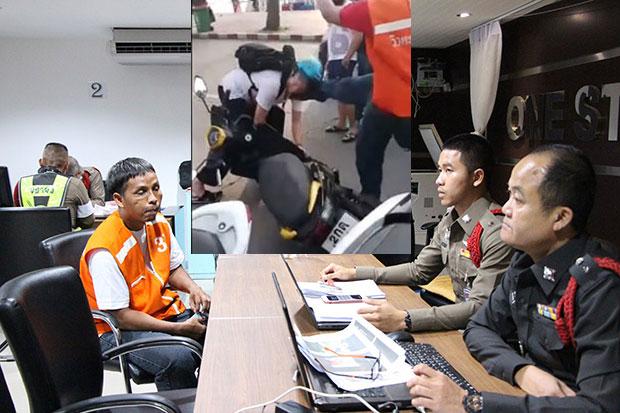 Pattaya-
Sunthorn Saenkham, 48, pictured above, was fined 1000 baht and apologized in public for kicking German tourist, Andreas Bruer, in the head near the police station on Beach Road.
Mr. Bruer had his motorbike locked and was being told to go to the police station when according to Police Col Apichai Krobphet, Chief of Pattaya police, started resisting and refused to go. As the video below shows at this point he attempted to take the clamp off and leave when Mr. Saenkham kicked him in the head. Mr. Bruer had his bike clamped and it was being confiscated as Mr. Bruer has no legal motorcycle license, per the new laws we have posted about previously.
Pattaya Police state the tourist was very rude, aggressive and refused to listen to them and was stating that he is very important in his country. However, they also stated that Mr. Saenkham should not have taken matters into his own hands and they could have handled the situation peacefully.
Mr. Bruer was charged with no motorcycle license, fined and his bike was confiscated.
Mr. Saenkham stated that he was offended by the tourist degrading the police and Thai people and trying to dis respect Thai law and that's why he took action.