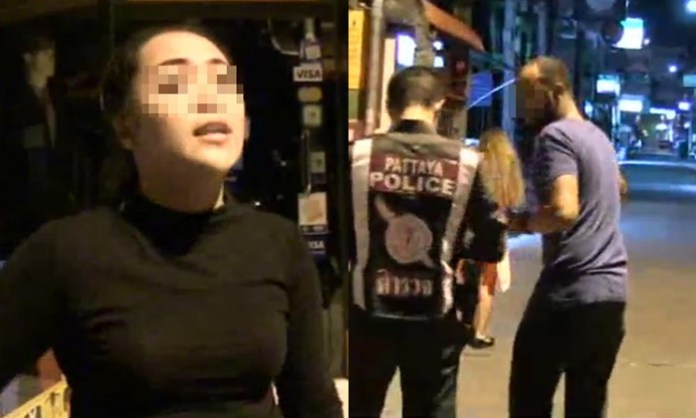 Pattaya-
In the early morning hours of Saturday, May 19th, Kuwaiti tourist  Abulla Kha Salenesi, 30 years old, was attacked by bar girl Rotsukhon, 28, at a popular beer bar on Soi 7 in Pattaya.
Police were called to the scene by an unnamed friend with Abulla after he was attacked. When they arrived they found a very drunken and bloody Abulla and  a very furious Rotsukhon. Additionally, there was a broken pool cue on the floor.
Police interviewed both parties who had very different stories about what happened.
Rotsukhon states that the two man, who were heavily intoxicated, came in and refused to order a drink and started groping and grabbing girls in the bar. They were asked several times to order a drink or leave and refused, continuing to try to grope the girls and becoming verbally aggressive. She stated that she felt concerned for the safety of the staff and used a pool cue to attack Abulla.
However, the two Kuwaiti men claim a completely different story. They admit they were heavily intoxicated and state they were on their way home. They stated the bar staff grabbed their arms and tried aggressively to pull them into the bar and refused to let go of their arms. Abulla stated he did lose his temper and swore at the girls to let him fucking go. At this point he said she was offended by the cursing and attacked him with the pool cue.
The Pattaya Police will be investigating the CCTV footage and will make a decision about what charges to file based on what story is true. We will provide further updates as we get them.