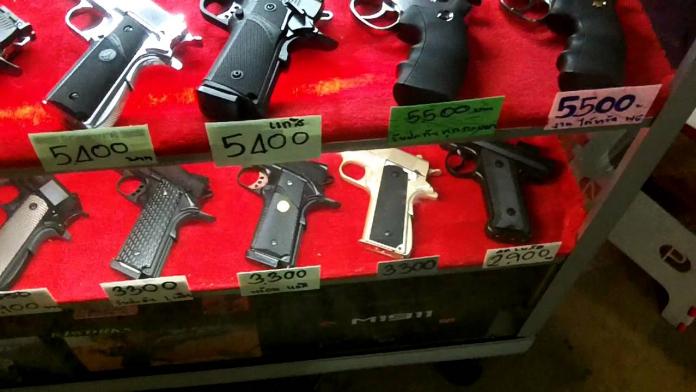 Thailand-
Thailand is known widely as the land of smiles. But within the fabric of its society is an underlying pattern of firearm use.
Studies show that Thailand has a higher rate of gun-related killings per capita than the United States, a country where deadly shootings dominate news headlines and the political agenda. Thailand is second only behind the Philippines within the region.
There are millions of powerful weapons across the country and many of them are illegal and unregistered.
In 2016, there were more than 3,000 homicides by a firearm in the country – a rate of 4.45 deaths per 100,000 people, according to research by the University of Washington.
Thailand's rate is nearly eight times that of neighbouring Malaysia and when deaths from armed conflict are removed, it is even greater than one of the world's most dangerous countries, Iraq.
Most of the homicides in Thailand are put down to criminal elements, gang activity or conflicts related to a loss of face or personal grievances. There is not the spate of mass shootings that occur so often in the US.
"Sometimes we get in a conflict and guns seem to be the answer. Guns make people equal," said Pol Col Naras Savestanan, the director general of the country's Department of Corrections.
Yet despite the high rates of violence, Thai authorities still do not have a clear picture of exactly how many guns are out there on the streets.
A MURKY PICTURE
The man tasked with compiling national data admits that it is incomplete and messy. All of the records throughout the country since gun ownership laws were introduced in 1947 have only ever been recorded manually by hand.
"Not only that, all the records are scattered among the districts and the provincial offices. There are errors. We had five to six million licenses, and now we're trying to put them into a computer," said Chamnanwit Terat, the deputy director-general of the Department of Provincial Administration.
"We found that there are duplications, or one license that belongs to multiple weapons and therefore we have to go through those errors one case at a time."
The department is attempting to create a central, online database for national gun records in an attempt to make the country more accountable for its weapons.
Chamnanwit believes self-defence is a justifiable reason for "mature" citizens to own firearms, especially when, he admits, they "can't always rely on the state's protection". However, he wants licensing laws tightened to allow for reviews of a person's suitability to possess a gun.
"Personally, I think those who possess or use firearms should have their license renewed once in a while. But as of now, once you get the permission to get your gun, you can keep it for life. You might be well behaved this year, but what about next year? What if you get sent to jail?"
This is an excerpt from the full article at Channel News Asia. Link below.