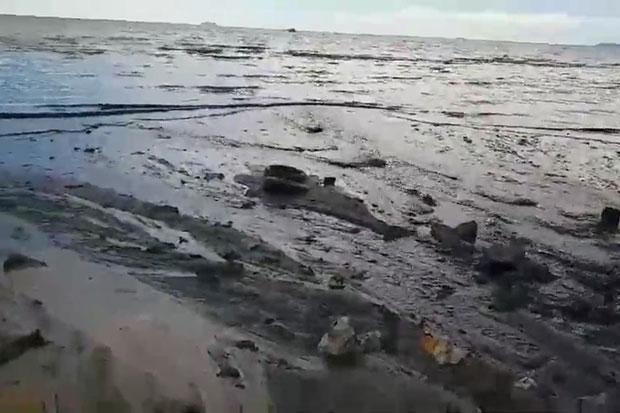 Jomtien-
The popular Jomtien Beach looked more like an oil spill for over a kilometer in front of many major hotels on Sunday in the middle of Jomtien Beach ruining one of the areas most popular tourist attractions for a period of time.
The pitch black water gushed for hours from a storm-water drain culvert which appeared to be the result of days of un-seasonal rain in Pattaya.
Multiple tourists were very unhappy and expressed that they were not pleased with the slow response to the incident by authorities. Local residents also expressed concern as this area of Jomtien Beach normally does not have the wastewater issues that Pattaya Beach has and is an important part of the local tourist experience and economy.
Authorities stated, helpfully, that tourists could go to other beaches further south or to the islands instead for a few days.
Pattaya City Spokesman Police Major General Phinit Manirat stated to the press that the discharged wastewater was in an area overseen by the Na Jomtien authorities and was their responsibility although they would look for a dual solution. He also stated officials were sent to investigate the problem.
Other authorities also suggested that the problem could be the hotel's dumping waste into the sea and they should be held responsible, not the city.