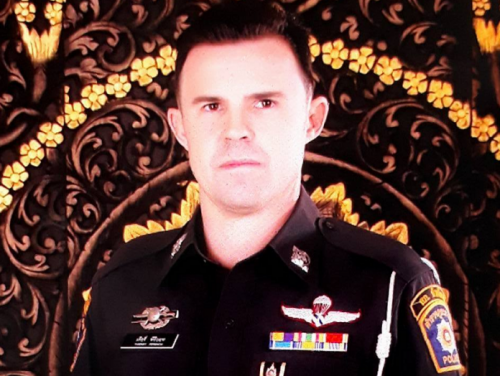 Pattaya-
Thierry Peronon, the accused police assistant to Pattaya Police has gone on a series of media appearances and stated that he is not guilty of writing any threatening e-mails and that the e-mail address, despite having his name and a history of official correspondence in the past, was not his and a fraud. Mr. Peronon has made news stories a number of times over the past few months, first over allegedly threatening the editor of Khaosod English News and more recently allegedly trying to extort Pattaya television and local personality Danny Mac over a youtube video that was filmed in which a taxi driver was caught on camera trying to raise the price of his fare.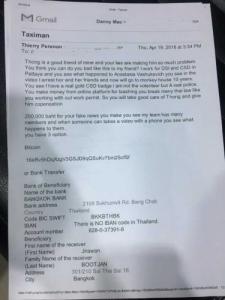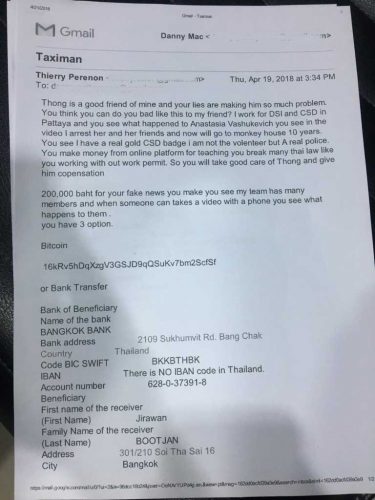 Mr. Peronon claims to the local media and Fabolous 103FM in an on air-interview that he is merely a volunteer unpaid translator with the police for french nationals and has been on a leave of absence recently, in his words, for a vacation. However, video as recent as the Tulip Hotel Raid in the past week have shown Mr. Peronon in the background along with multiple other recent stops and raids.
The Police state that they are investigating the allegations and the bank account and Thai name on the e-mail that was sent to Mr. Danny Mac. They also stated that Mr. Peronon was on a leave and that they would welcome him back as he was an outstanding volunteer.
Mr. Peronon says he is focusing his time on his racing hobbies and his image has been unfairly tarnished by the recent cases. He did state that he called the editor of Khaosod English and asked that the article be removed but was unclear about why a translator would be calling on official police business. He claims that he is not associated with the Danny Mac case whatsoever. He also claims he never threatened the editor of Khaosod English and merely politely requested it be removed.
We will provide any further updates.