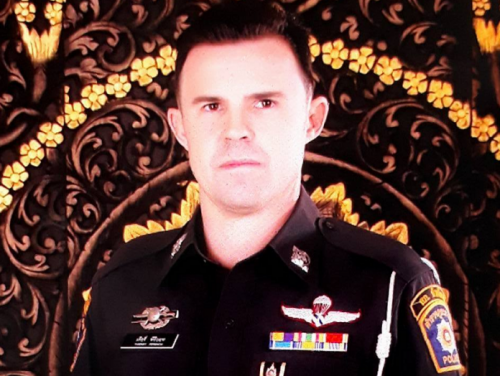 Pattaya-
Recently in the news in Thailand was popular Youtube, Facebook and Pattaya television personality Danny Mac expressing a negative opinion on a taxi ride to his condo in which he felt he was overcharged (And in which the public and police sided with him, resulting in a 1000 baht charge for the taxi driver). However, this is not the story we are covering today.
Danny Mac, full name of Daniel Lee Mckee who speaks fluent Thai and is a longtime Pattaya resident with a legal work permit and who has over 80,000 followers on Facebook, a well known Youtube Channel for teaching English to Thai's and is a host on Pattaya television was sent a threatening e-mail from a Thierry Peronon, French National, who claims to be a badge holding member of the Department of Special Investigations of Thai Police.
The e-mail is below.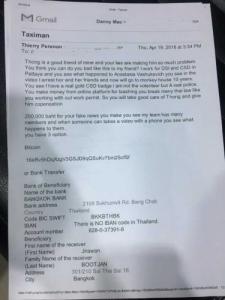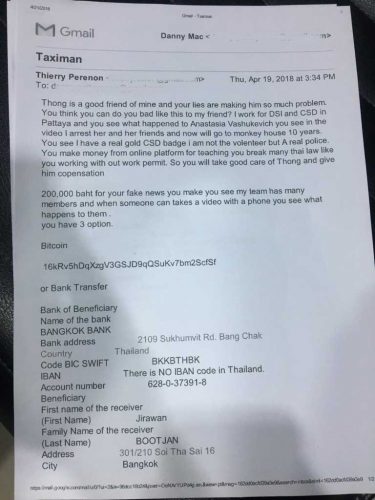 The sender, who has the name of Mr. Pernon, claims to be a friend of the taxi driver, Thong, saying that he has suffered as a result of the video. It goes on to claim that the sender was instrumental in the arrest of Anastasia Vasukevich in the infamous "sex instructor's" case in Pattaya saying that she faces 10 years jail. (Mr. Pernon, pictured above, was indeed seen in the background of the arrest of Ms. Vasukevich as well as the recent Tulip Hotel raid.)
The sender claims to have a real badge and DSI and CSD connections. Both are special investigative police departments.
In March the Department of Special Investigation based in Bangkok said they were investigating Perenon with DSI chief Korrawat Panprapakorn saying that the Frenchman had misrepresented himself and was incorrect when he allegedly threatened the editor of Khaosod English News magazine over an article about the Sex Instructors case which was also reported to the media at large.
According to the chief, Perenon was not a sworn officer. He was part of a volunteer group that sends in tips about the activities of foreign gangs and was not a badge holding officer and had no authority.
At the time Perenon's Facebook page contained a picture of him apparently in the uniform of a Thai police officer.
His Facebook page is now bereft of details though it still contains pictures of his friends – the great majority of them appear to be police officers or women.
Unusually for a foreigner there are virtually no non-Thais on his Facebook page. Attempts to send him private messages and reach out to him for an interview on both his Facebook and Gmail account have been unsuccessful at this time.
He is listed as having lived in Marseille and Pattaya and is said to be now working for the RTP and DSI News and living in Pattaya.
The email alleges that Mr McKee is breaking Thai law and does not have a work permit. (Which as stated above is not true and Mr. Mckee has provided his legal status and work permit for review.) and demands 200,000 baht in compensation.
Then comes what may be construed as a further threat: "When someone takes a video with a phone you see what happens to them."
Three options are given for payment of the 200,000 with a name of "Jirawan Bootjan" based in Bangkok mentioned in bank details. Searches for Mr. Bootjan on social media have so far proved inconclusive.
Mr McKee said in a video that he felt uncomfortable about all this and he felt he was in danger which is why he went to police and filed a case over the letter and asked local media, such as us, cover the situation.
Last week the taxi driver Thongkham Sakaew, 50, was arrested and appeared in the Thai media in tears saying he had always been a good driver.
He was shown on the video calling his passenger mean. It was said that he initially refused to turn on the meter and then was reluctant to return 75 baht in change after the journey because he wanted a tip.
The YouTuber explained in fluent Thai what had transpired from his point of view.
The Pattaya Police Department said they will take the allegations seriously and Mr. Mckee has invited Mr. Perenon to speak with him in person about the situation.
We will provide further updates as we get them.