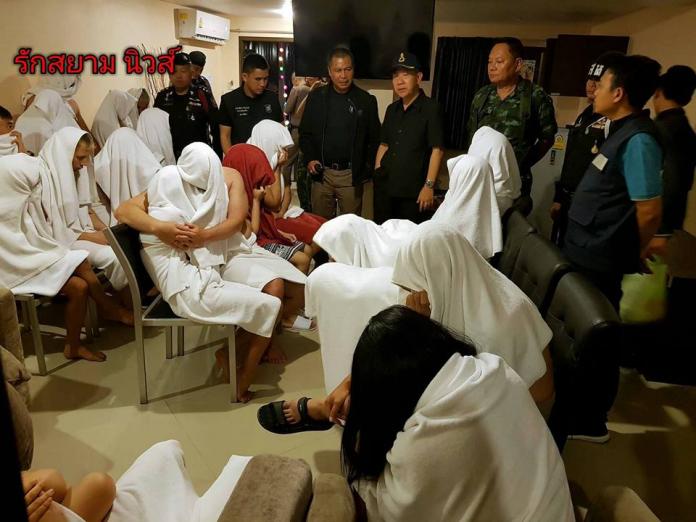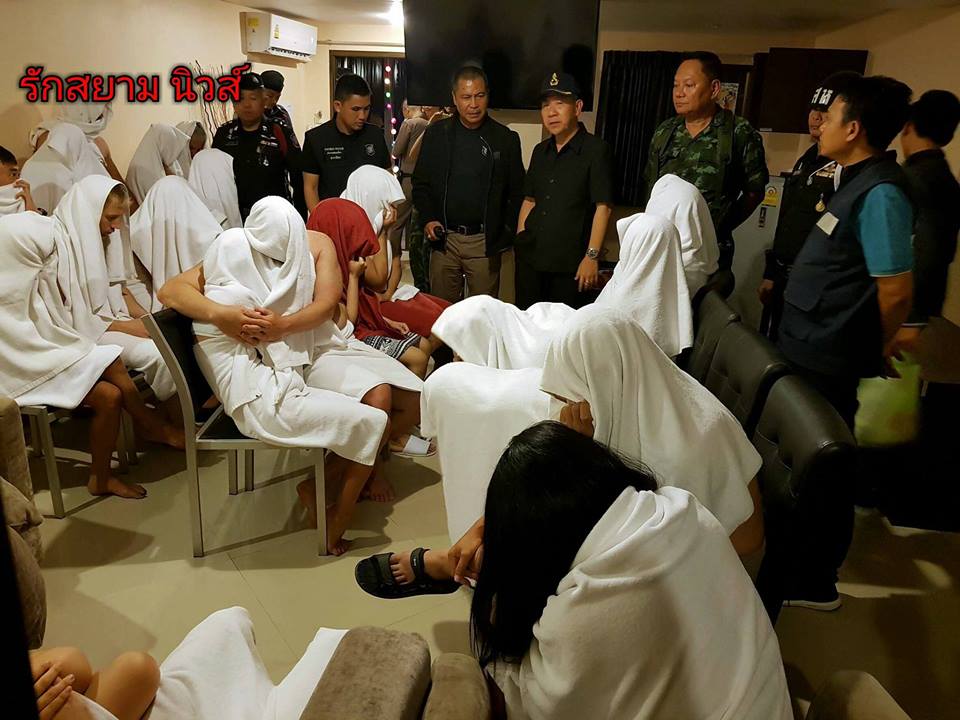 At 11:30PM  on the 21st of April, Saturday Night, Mr. Naris Niwapantawong, Banglamung District Sheriff, Chonburi received a complaint that the Tulip House Hotel in South Pattaya had organized a group sex party weekend event.
A raid and investigation was coordinated by Pol.Lt. Abhisit. Pol.Maj.Gen. Piyapong Charoenpong, tourism police, immigration and the military together to investigate the hotel.

The hotel is located in the center of Pattaya, with 4 floors and 30 rooms. The ground floor is divided into 3 zones or conference rooms. The last zone was arranged as a party room. 
 When officials and police arrived to the surprise of the hotel staff and converged on the conference room they found many women and men from different countries in a variety of sex acts including The United States, Canada, China, Malaysia, Singapore, Germany, Thailand, Cambodia, India and Ukraine with a total of 14 women and 28 men, naked, some expressing homosexuality. 

The officer took control of the situation.

First, they searched the place and found found gel, lubricant, sex drug, sexual stimulation device, and used condoms dumped in a trash. The officials kept it as evidence. The officials also met Mr. Sheng Liao Yang, 53, of China, acting as the owner of this hotel.

Mr. Naris Nilipawong, Banglamung District Sheriff, revealed that the arrests were due to a complaint that the site had sexually staged sex parties for those who like sex and swingers parties. The party was advertised on a private website. To attend the event participants had to register through the website and there was a rule that party members must be a male and female couple. The cost per night was 1,500 baht per person.

The authorities have made the following legal allegations against the owner of the hotel:

1. The hotel business is operating without permission as they did not have proper permits.

2. The swinger party violates Thailand's Obscenity laws and public decency in a city of fine, upstanding social values such as Pattaya.

3. Prostitution charges will also likely be filed.
Each participant was arrested and is currently being held at the Pattaya Police Station. The hotel owner and manager were also arrested.
We will provide more updates as we get them.