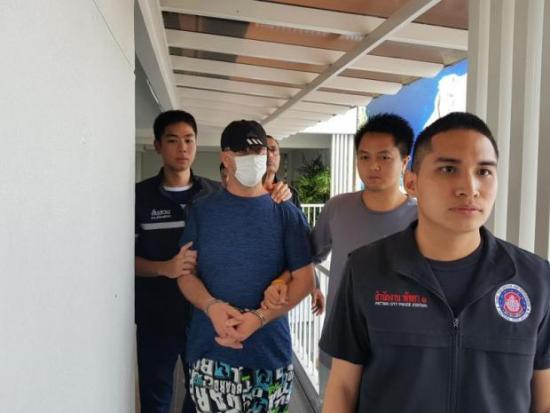 Naklua-
Mr. Mouloud Sadat, 53, was arrested Friday night walking down the road in Naklua for theft and charged with stealing cash and valuables from a South Korean tourist at a nearby restaurant.
Lee Seung-Chul, 44, was dining at the restaurant and left his Prada bag with roughly 60,000 baht of cash and valuables on the back of his chair. When he went to the toilet (Similar to the recent case of an Australian National arrested for the same thing the same day) Mr. Sadat took the bag and left. Mr. Sadat had just finished a small meal nearby and quickly fled the restaurant.
When Mr. Seung-Chul came back from the toilet he immediately called police who responded within a few minutes. Police led by Captain Apichai Krobphet, the Pattaya Police Chief investigated the CCtv footage from the restaurant and quickly got a visual identification of the suspect. To their delight and luck upon driving from the restaurant to the police station to attempt to track the victim they spotted him walking down the road with the bag.
Mr. Sadat has admitted to the theft but claims it was the first time he has ever done anything like this and he was not thinking clearly. He is being held at the Pattaya police station.
Moral of the story: Do not leave your bags unattended on holiday.