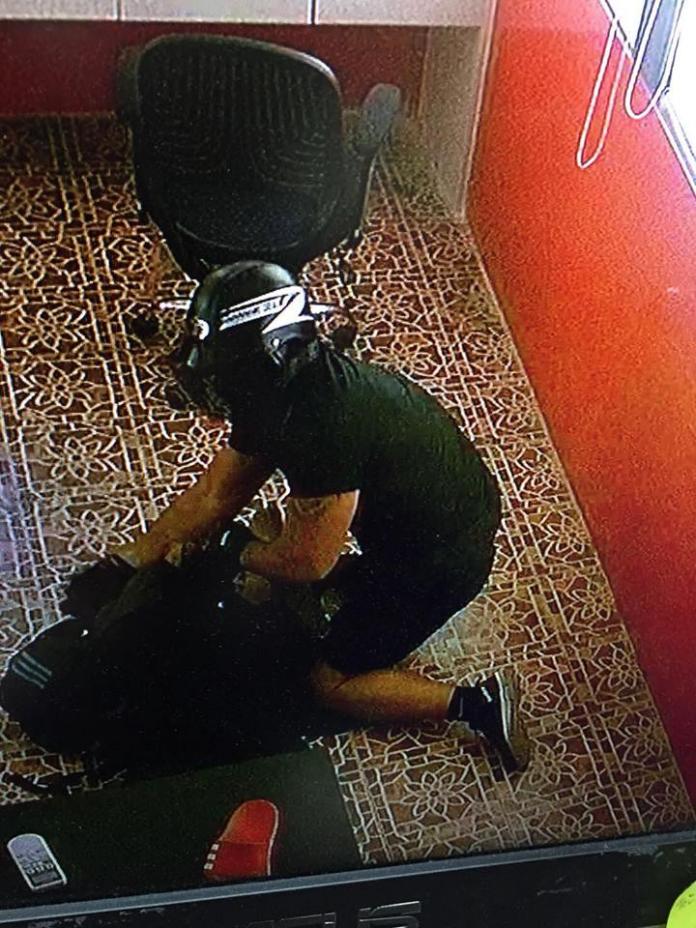 Jomtien-
At roughly 4:00PM on April 15th, 2018 Mr. Nikolay Rybalov, 34, former Russian military and resident of Pattaya for roughly one year, made an appearance at the Na Jomtien Police Station in front of Chonburi Major General Chalermkiat Srivoran, Deputy Chief of Staff, along with Major 2 Chittal Komonwatthana ,Deputy Permanent Secretary, Pol.Maj.Gen. Thitwat Suriyothai Vice Chonburi and Police.
Mr. Rybalov, as we discussed in previous articles and shown in the video refuses to cooperate with authorities or translators and refuses to speak about the incident in which a man, suspected to be Mr. Rybalov, brutally assaulted 30 year old Ms. Sunee Kaewyu as she was arriving for work with nearly a million baht in a bag at her currency exchange located opposite the Ambassador Hotel in Jomtien.
In the video, the suspect can be seen brutally hitting Ms. Kaewyu unprovoked over a dozen times in the face causing facial injuries and possible permanent damage to her right eye. He then proceeded to take the bag and flee on a motorbike registered to Nikolay Rybalov. The motorbike was traced to a residence in Dusit Lake 2 Housing estate also rented in the name of Nikolay Rybalov. He was not, however, there. Police then put out a call with his name on a nationwide alert. Additionally, the CCTV footage clearly showed his tattoos, including a prominent Russian Military tattoo on his arm that exactly matches Mr. Rybalov's arm.
Nikolay Rybalov was captured at Suvarnabhumi Airport minutes before flying out of the country to Moscow with his wife. He had the exact same black bag with him from the currency exchange that was clearly marked as property of the CX. His Russian wife, whose name has not been released to the media, but pictured below, also claims that they are innocent despite cashing in 670,000 baht at a currency exchange at the airport minutes before the flight.
Additionally, raising further suspicion, is both Mr. Rybalov and his wife are unemployed and have no source of income and no explanation for why the getaway vehicles, Mr. Rybalov's tattoos, the currency exchange bag and the marked notes in their possession all match up to the evidence.
Mr. Rybalov continues to deny all charges, despite overwhelming evidence to the contrary and refused to answer any questions. He does not have a lawyer at this time nor an alibi or defence. He is refusing even basic courtesy and being forced to each appearance. He has refused the assistance of the Russian Embassy. His wife has not been detained at this time but is staying within the country during the upcoming re-enactment and trial. In the coming days it is expected that Ms. Kaewyu will meet Mr. Rybalov face to face to get him to admit to the crime.
The owner of the currency exchange, Miss Chatchanajai Yayangkul, 33 years old, brought a basket of flowers to the Na Jomtien station to thank the police for their hard work in swiftly bringing the suspect to justice in less then ten hours.
We have also discovered that Mr. Rybalov has a strong presence on social media and has a young daughter of his own. Here is his Instagram account which gives a picture of his life before the robbery. https://www.instagram.com/mikola_828/