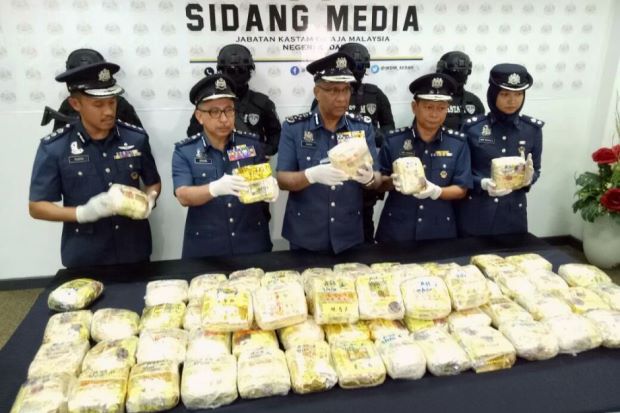 Customs director-general Datuk Seri Subromaniam Tholasy said the suspect, a Malaysian man aged 47, was nabbed as he was driving from Thailand at the border security post at about 9.30am.
"Customs officers suspected something amiss and asked the driver to open the car boot.
"Officers conducted a thorough inspection and found a secret compartment there," he told a press conference at the Immigration, Customs and Quarantine (ICQS) complex here on Wednesday (April 11).
Inside the compartment, officers found 70 packages of drugs weighing a total of 70kg.
"We believe the drugs are methamphetamine and were manufactured in Thailand for the Malaysian market.
"The suspect has been remanded for 14 days pending investigation under Section 39B of the Dangerous Drugs Act, which carries the death penalty upon conviction," said Subromaniam.
He added that this was the biggest drug bust for Customs in Kedah this year.
Subromaniam said Customs would be working with police in the case and the suspect will also be charged under the Customs Act and id needed, the Anti-Money Laundering, Anti-Terrorism Financing and Proceeds of Unlawful Activities Act.