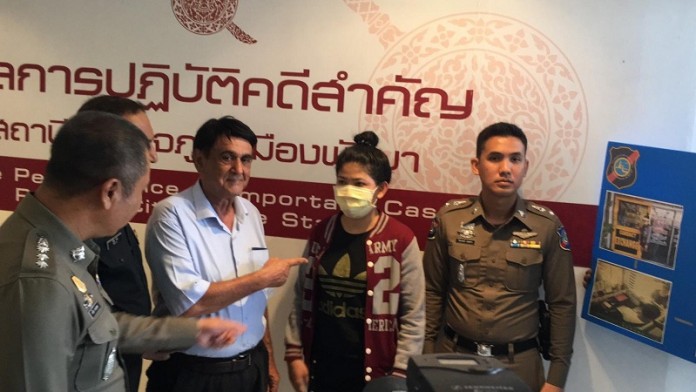 Pattaya-
A nursery in Pattaya has been ordered shut until further notice after a clip on Facebook showed a ten month old child being beaten by a nanny.
Bang Lamung District chief Naris Niramaiwong was with the police and other child protection agencies Thursday at the Ban Un Lak nursery in Soi Chaiyaporn Withee in Bang Lamung.
The establishment was found not to be suitable for caring for children, dirty and in disarray and does not even have a license to operate as a nursery.
Owner Rosarin Rihat, 38, faces a month in jail and or a 10,000 baht fine.
The nanny has been arrested and charges will follow for child abuse based on the injuries to the child called Nong Poom.
Rosarin apologized for what has happened and said the thirty parents of children at the nursery would be informed when they are opening again. She has taken personally accountability to ensure the incident does not happen again if she is allowed to re-open.
The grandmother of Poom, Supita Makenphong, 51, told the Thai press that she wants the place closed down for good.
Her and the boy's mother, Phatritha Makenphong, 25, don't want financial restitution for what happened to Poom. They want to see a prosecution of the nanny and others concerned in the running of the nursery, as well as a permanent shuttering of the nursery.
Unusual for such cases the nursery was named. A sign at the nursery says it caters for children aged from 8 months to 4 years and can look after children before and after school too.
Yesterday members of the local Red Cross headed by Supinya Niramaiwong went to visit Poom in Bang Lamung Hospital and gave 3,000 baht and supplies to his mother to show support.
The boy is now conscious but doctors state his vision is blurry and may be permanently damaged. A brain X-Ray indicates no serious damage though he is being kept under observation just in case. Doctors said he is on the mend.
Thai news reported that neighbors close to the nursery said that the place was strange. They alleged that the owner handed out beatings on a regular basis in the front of the nursery and swore at the children creating a bad feeling towards the nursery in the small community.
They said it had moved there from elsewhere two years ago and they would be glad to see the back of it.