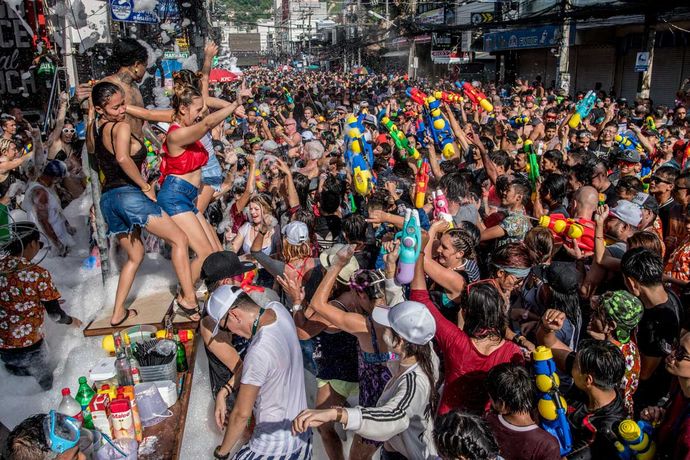 Pattaya-
Pattaya City Officials announced this week in a meeting at City Hall attended by both Banglamung district officials, police and the mayor that to encourage and boost tourism in the city the Songkran Festival for Pattaya will be extended from April 12th-April 19th to April 12th-April 30th. Additionally, historically the water wars stop at around sunset, however, to further boost tourism and drive the reputation of Pattaya as "The fun city" the water fighting will be permitted to continue until 10:00PM.
Pattaya City hall stated the following to The Pattaya News in a formal statement:
"We believe that by encouraging more tourists to come to Pattaya and driving the reputation of Pattaya as a world class "Fun City" on the level of Las Vegas and New Orleans in America we will boost overall tourism numbers by roughly 35% and bring an estimated further 700 million baht alone to the Pattaya economy. These funds we can utilize later in the year to provide better roads and complete the beach beautification project. Additionally, these funds can be used to assist in dealing with numerous waste management and trash related issues that have plagued the city for the past several months. It is a win-win for all involved."
City officials further stated that they are planning several unique events this year for Pattaya City to further encourage "Fun".  They have also confirmed that in coordination with the government Pattaya has an official exception for allowing water play on main and secondary roads.
The events outlined at the meeting for the now nearly month long festival include the following:
-City sponsored water soaking stations on all major roads, including the highway and in the dark side as the city wants to encourage expats to get into the spirt of Songkran.
-Water soaking stations, sponsored by the city and manned by volunteers and city officials in front of most major supermarket entrances, banks and hospitals to ensure that everyone, including those not in the party areas, enjoy the spirit of Songkran.
-7-11 has stated that they will be participating in the month long festival as well by having a designated employee at the door soaking every person entering and leaving the store, regardless if they are dressed for the occasion as well in collaboration with City Hall.
-The city will have sponsored water wars on Soi 7 between different groups of tourists. Some planned events include French vs. German tourists, Americans vs. English, Indians vs. Arabs and Russia vs. China.
-Instead of the official flower shirt for the city the city officials are encouraging men to go shirtless and wear official flowered thongs. The thongs should be available at all markets midweek.
If the event is a success City officials have stated that they are looking at expanding Songkran even further, perhaps to a monthly week long event to boost tourism.
Oh…and Happy April Fools, folks.