Pattaya-
  Electrical authorities in Pattaya have said that the fire that destroyed two bars and 17 motorcycles was caused by a newly installed electrical transformer exploding that had been installed earlier in the morning.
The transformer had been in place just one day, said the Pattaya Fire chief and also stated that a council will be investigating the actual transformer and inspecting other transformers in the city to ensure it does not happen again. This is the second fire on Walking Street in the past year, with another transformer exploding at a popular rock bar on Walking Street and destroying the building in the early morning hours.
On the day after the fire, Sunday March 11th,  provincial electricity chief Chartchai Phumrin was surveying the damage with local electrical chiefs and the police.  It is estimated that damage from the fire was roughly 10 million baht. In a nice change from regular finger pointing the city took responsibility for the fire and partnered with the landlord of the beer bar complex to raise funds for rebuilding the businesses. This fast action has caused both beer bars to already be rebuilt as of today, March 13th and are nearly open for business again. It is unclear if this will be extended to the owners of the destroyed motorbikes. Employees of the beer bar complexes praised authorities for the quick action.
Apart from the shops and bikes other signage and awnings were slightly damaged.  One tourist was sent to hospital with burns and a Thai suffered smoke inhalation. Both are recovering.  Some 50 staff from the Pattaya electrical authority joined with cable and internet operators in repairs to wiring. A new transformer was expected to be in place restoring power to the area by yesterday evening.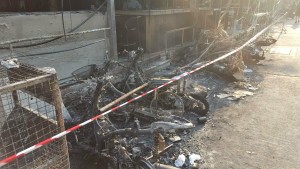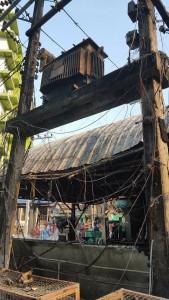 We here at The Pattaya News hope this doesn't happen again.