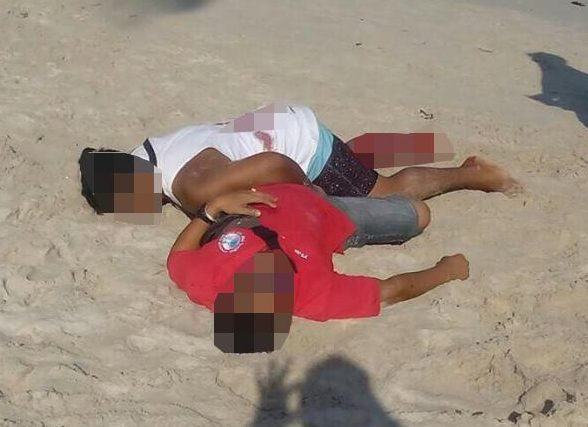 Ko Samui-
Warning: Video contains graphic content
https://www.liveleak.com/view?i=99f_1519837350
TOURISTS lounging on a Thai beach located in beautiful Koh Samui fled in panic after a fatal shootout between two rival jet ski operators.
The jet ski operators had been ferrying holidaymakers out to sea on the packed Koh Samui island when an argument broke out over who spoke to a customer first and which section of the beach belonged to each other.
The argument between Soontree Chaipet, 45, and Tinapot Petcharat, 26, who later died in hospital, escalated into a bloody shooting.
Grainy CCTV footage showed the moment they opened fire at each other, sending tourists at nearby restaurants running for cover.
Police arrived at around 4.30pm to find both men in a pool of blood on the sand.
The older man was driven to hospital while paramedics performed CPR on Tinapot as tourists in their swimming trunks stood watching in disbelief. Both men passed away.
Officers later recovered two weapons, a black 9mm handgun and a smaller silver pistol as well as ammunition on the Chaweng Beach.
Police Major General Apichat Boonsaree from the Bophut station said they believed the reason for the gun fight was a "business conflict when renting jet skis to customers".
He added: "Both sides were involved in the business of renting jet skis on the beach and they took up a duel with each other."
"They were both carrying guns and we understand that they had many arguments with each other before."
Police officials will be further investigating and speaking with the co-workers of both parties. Luckily, no tourists were injured during the incident despite over one hundred tourists lounging on the beach in the immediate vicinity during the shootout. Police stated neither man had a license to carry a weapon.