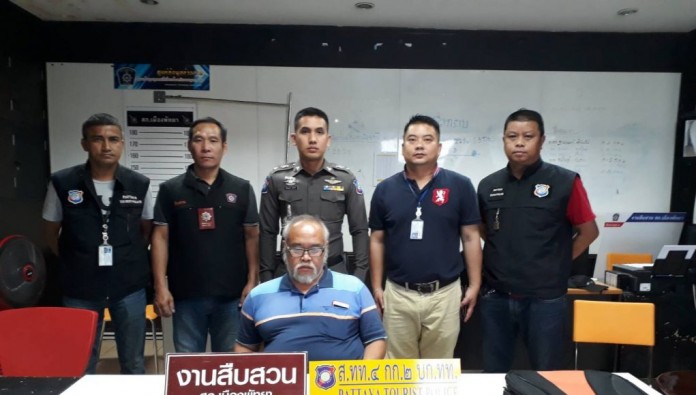 Pattaya-
On Feb 18th, 2018 police arrested Mr. Samak Sikhorikri, 60, of Thailand for attempted burglary and attempted theft at the Siam Bayshore Hotel located in Southern Pattaya. Mr. Sikhorikri was also found to have an open arrest warrant dating from 2012 for Burglary as well and never showed up to court on those charges.
At 2:30PM on Sunday the 18th Police Lt. Abiisit Vejjajiva, Pattaya City Police Chief and Pattaya Police Lead Investigator Piyapong Ennuwat arrested Mr. Sikhorikri at his residence on charges of burglary at roughly 6:00AM on the same day at the Siam Bayshore Hotel.
Management at Bayshore said for several months now guests were reporting missing items in their room and after a full CCTV investigation it was determined it was not staff breaking into guest rooms and stealing but rather appears to be Mr. Sikhorikri on numerous occasions. Mr. Sikhorikri is also suspected of robbery on January 28th, 2018 at The Ambassador Hotel in Na Jomtien as CCTV footage there also appears to show him breaking into guest rooms in the early morning and sneaking by security staff. Pattaya police officials also stated to the police they believe Mr. Sikhorikri is responsible for many more thefts at hotels in the Pattaya area.
Found in Mr. Sikhorikri's possession were several fake room cards for area hotels that appeared to have been made by an electronic expert. The police confirmed the keys in his possession appeared to open the majority of the guest rooms at the Siam Bayshore, however were not originally issued or property of the hotel.
At 6:00AM CCTV footage showed Mr. Sikhorikri lingering around the building as guests left their rooms for breakfast and daytime activity then proceeded to break into multiple rooms and take primarily cash. Police inspected his residence and discovered the following bills in his possession that matched guest complaints at the hotel.
1. Thai Baht Banknotes 1,000 Baht 23,000 Baht.
2. One Thai Baht Banknote 500 Baht
3. Thai Baht Banknotes: 100 Baht each, 400 in total
4. Thai Baht Banknotes: 1 50 baht note
5. Two Thai Baht Banknotes worth 20 Baht each, in total 40 baht.
6. 1 USD (Us Dollar)
7. One Singapore Dollar
8. Yuan currency notes, 100 yuan each, 21 in total.
Mr. Sikhorikri has pled not guilty at this time and states, despite clear CCTV evidence, a past record and the fake cards in his possession, that he was not responsible.
We will give further updates in the near future here at The Pattaya News.