Hi guys, TPN Editor here and every week I will be providing a recap of this weeks events and news worthy situations posted here at The Pattaya News as well as a look ahead into the following week. As we have posted previously, we have just started a month and a half ago roughly but are already steadily building a subscriber and viewer base and continuing to improve our website, our staff and our content daily. We noticed a major lack in Pattaya in professional, unbiased and well written English news that directly affect and interest Pattaya residents, expats and tourists. Our goal is to fill that gap as well as provide structured and intelligent commentary without the trolling and negativity that plague some of the other local websites. We welcome your feedback, feel free to send us a PM on Facebook or e-mail us at Pattayanewseditor@gmail.com.
So, let's get into the week in review: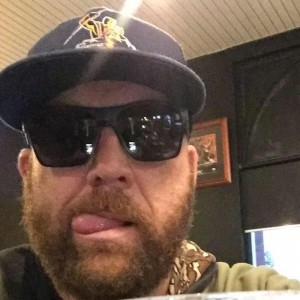 The top news this week in Pattaya which has message boards and news web sites humming with chatter is the death of an Australian national, Mr. Benjamin Robb, 43, during a bar brawl at the popular Ruby Club located in Northern Pattaya. The suspect, Mr. Jose Polanco Junior, 44, from America, who has a previous conviction for Manslaughter in the United States in 1993, has pleaded not guilty and states his actions were in self defence.
It's expected that this week will be a re-enactment at the Ruby Club, per Thai law, in which the suspect, a waitress involved and multiple officers will re-enact what happened based on the statements of Mr. Polanco, the CCTV footage we have confirmed the police have in their possession and the statements of the waitress.
We have been asked at The Pattaya News if Mr. Polanco has been given bail as has been discussed on several well known Pattaya area Facebook groups. We have looked into this and spoken to several sources with the Thai police and at this time cannot confirm these reports which appear to be unsubstantiated. This is, of course, subject to change but at this time it is believed Mr. Polanco continues to be held at an undisclosed location, not at the police station for Pattaya on Soi 9, until the re-enactment and his first court appearance, scheduled for later this week at the Pattaya Court. We are aware of a picture taken in front of Immigration and claims that people saw him in Jomtien but have been told at this time of publishing that it was for an internal press conference and meeting with legal officials and he was being escorted around by plain clothes officers.
We have noticed that there seem to be a lot of concern about safety in general in Pattaya and questions about whose fault it is. These opinions are only of the editor and not reflective of the overall opinions of The Pattaya News company, however, I feel that after a decade of living in Pattaya and knowing hundreds of others who live and visit here that for the vast majority of people it is a very safe city. Watching the amount of liquor you consume and being aware of your surroundings anywhere you go is always important. It's important to note that fights that regretfully end up in death happen all over the world and tens and tens of thousands of tourists visit Pattaya weekly and there are almost always no major incidents.
Our thoughts are with Mr. Robb's family who made a trip to Pattaya this week to claim his body and get more answers regarding his death.
We will continue to keep you updated throughout the week.
Medical/Trash buildup in Pattaya area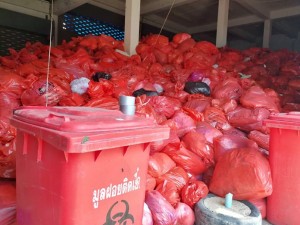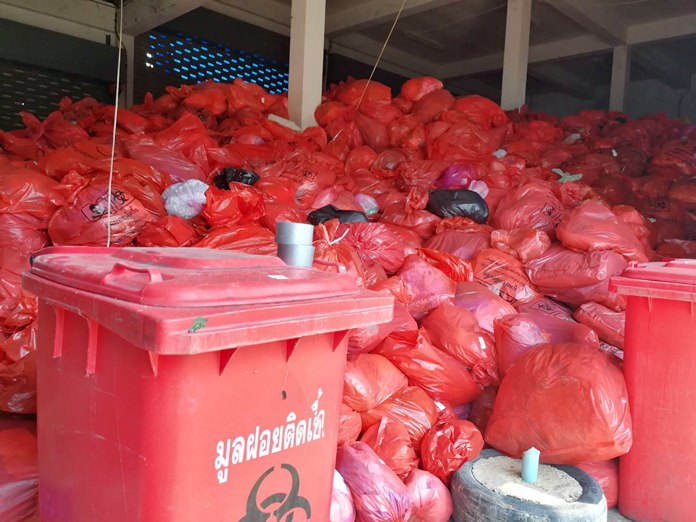 One of the other top stories affecting local residents and expats is the trash situation throughout the Pattaya area. We have reported on the medical waste buildup in local villages several times but have also brought up the delay on waste pickup in Central Pattaya as well. The issue here is that the cities contact with an independent waste management company expired in October of 2017. There were numerous attempts to resolve this over the holiday season however they were unable to come to a financial agreement and as a result waste has built up throughout the city while a new contracted company struggles to keep up with the demand.
The city is well aware of the situation and has focused on speeding up the process to remedy this situation. We expect all of the medical waste to be gone by early next week and the situation on trash pickup in Central Pattaya has also improved.
Pattaya resumes focus on removing illegal street Vendors/Homeless
We ran an article earlier this week highlighting that similar to last summer, 2017, the Pattaya Deputy Mayor and city council are once again focusing on resolving the homeless and illegal vendor problem, primarily on Beach Road. City hall has stated to the press that there have been numerous complaints from tourists on homeless beggars and vendors annoying them while attempting to enjoy a meal or a quiet beer.
We reported and confirmed that many of the homeless were Cambodian and Myanmar nationals found to be in Thailand without a proper visa and against Thai law. They are currently being processed for deportation. Thai nationals who were found to be homeless were brought to the Chonburi center for the destitute to be given assistance in getting off of the beaches and city streets. No non southeast Asian nationals were found to be homeless on the beach at this time.
As for the vendors, many of us have been attempting to have a quiet meal when numerous vendors selling flowers, watches, DVDS (In 2018) and even throw rugs attempt to get us to purchase their wares. This has long been an annoyance of regular visitors, residents and expats and City Hall states this will once again be a priority. It was stated to the Pattaya News by city officials that many of these vendors are also not Thai citizens and here working without a work permit as well as not with a proper visa. Should they be caught they will also be deported according to Thai law.
This weeks events
For those looking for something to do, this weekend, the 24th and 25th of February will be the annual Pattaya Best muscle and physique contest at the Royal Garden Mall located near Walking Street on Beach Road. This is always a fun event to watch and observe and big prizes in terms of Thai baht are given to those judged to have the best body. As for your loyal Pattaya News Editor, we have a body best given for writing and reading and will not be entering the contest this year :).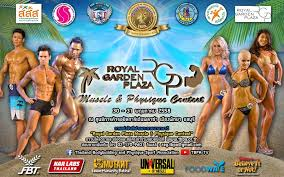 We will be expanding and improving on this column each and every week and is a quick recap of the weeks events. Thank you for reading The Pattaya News.