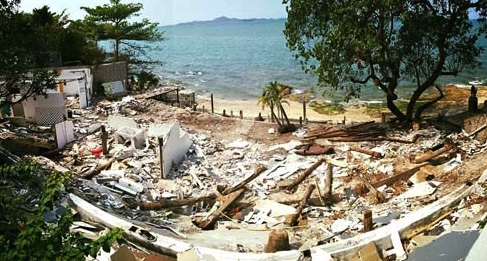 Pattaya's mayor, Anan Charoenchasri, stated on January 30th, 2018 to the media that the pulling down of a well known South Pattaya restaurant will be the start of many such demolitions on buildings encroaching on public land.
What was once the fancy "Bali Hai Sunset" restaurant looking out on the bay at Bali Hai promontory is now just a heap of rubble as city workers tore down the restaurant in record time.
Following a court order and a last attempt of stay of execution workers have now pulled down the offending structure for being built on public land against Thai law.
Engineer Naris Chertsunya at the scene of the demolition yesterday told the media that this was just the start. This brings to mind the long running controversy over Walking Street and the beach facing businesses that are stated to be built on public land against Thai law. What will happen next? Stay tuned to the Pattaya News for further updates.
Source: Mayor's Office