On Thursday, January 18th 2018, Frank Bruno visited a standing room only crowd of excited fans at the Robin Hood Tavern located on Second Road at the Avenue shopping mall to speak about his life, his boxing career, his struggles and personal life and to speak about his new book, Let me Be Frank.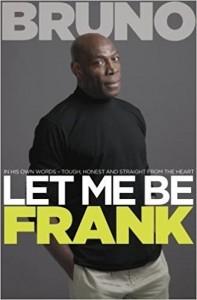 After a delicious buffet dinner served by Robin Hood Tavern the crowd got to hear Frank interviewed for roughly thirty minutes. He was remarkably, pun intended, frank and spoke about his personal struggles and his life during and after boxing. Frank entertained the crowd with his wit, his charm and his honesty leading the room to applause multiple times.
Frank then opened the floor to the audience for an additional thirty minutes and answered honest and blunt questions from the crowd which ranged from his personal life to his favourite opponents during his long career. Frank then proceeded to sign copies of his book for the excited fans that were present. For those who still wish to purchase a signed copy, they are still available at the Robin Hood Tavern for only 1000 baht.
Frank was a gentleman and judging by the response of the crowd the event was a success. Frank will be doing another two events during his visit to Pattaya, Thailand and is attending a local boxing event this Saturday evening. We here at The Pattaya News are pleased and honoured to have been invited to the event.
Like Frank Bruno? Leave your comments below!