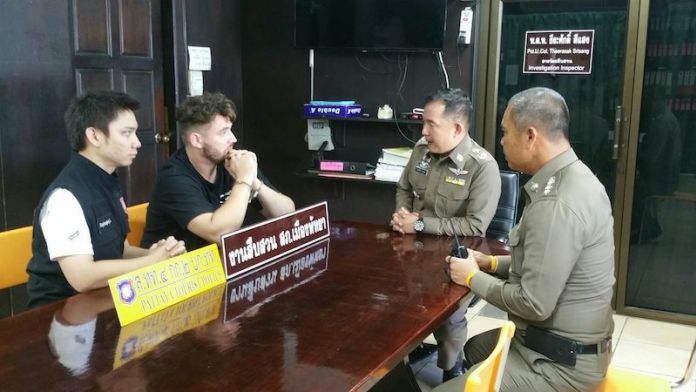 A British National was interviewed today at the Pattaya Police Station after being arrested over the death of a bar girl who fell from a balcony on the fifth floor of a condo.
Reece Vella, 25, from Birmingham, took Wannipa Janhuathon, 26, from a bar in Pattaya and went back to the Cosy Beach View condominium, located near Pratamnuk Hill.
At around 5.30am on Saturday morning Wannipa plunged to her death from the fifth floor room and Mr. Vella fled the scene.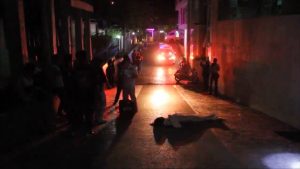 Mr. Vella was arrested on Sunday afternoon and admitted fleeing the scene of the accident due to, quote, panicking and being distraught and being on overstay. He was pictured being questioned at Pattaya police station this afternoon.
Police Lieutenant Narong Chantra, deputy head of investigations at Pattaya Police, said Vella had been arrested on suspicion of ''negligence causing others to die'' and fled the scene in panic knowing that he was staying in the country illegally on an expired visa.
Mr. Chantra stated to the press ''CCTV from the incident was examined and after checking evidence at the hotel the suspect was found to be Mr Reece Vella, a British citizen, aged 25 years."
''An arrest warrant was issued after evidence was presented to the court. The police case is that on the day of the incident Mr. Vella visited the bar and met Miss Wannipa where they proceeded to go to the condo in Pratamnak."
''Mr Vella was in shock when she fell and knowing that he had overstayed his visa ran away and kept her mobile phone in his bag and left the room."
''Mr Vella has been arrested on suspicion of negligence causing others to die, overstaying his visa in excess of 59 days and stealing a motorcycle at night.
''The foreign suspect will be processed and prosecuted in accordance with the law."
We here at The Pattaya News will provide further updates as available. Our thoughts are with the friends and family of the departed.